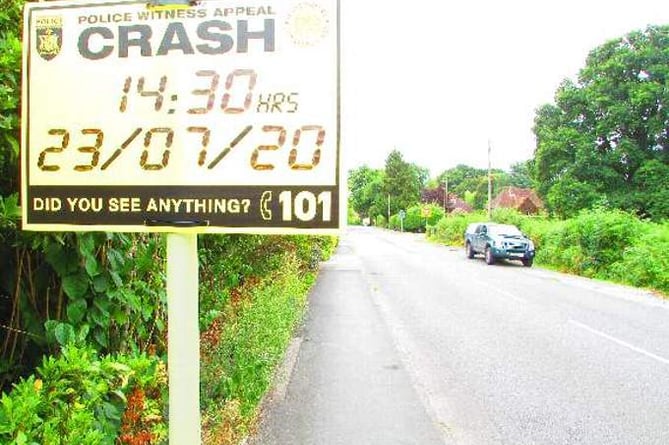 Durford Road crossroads the scene of a fatal accident and numerous safety complaints
()
Subscribe newsletter
Subscribe to our email and get updates right in your inbox.
ANGRY residents have accused their local county councillor of not being up to the job as the campaign to make a killer junction safer rumbles into its second decade.
The council admits it has about £300,000 to improve Pulens Lane and Durford Road crossroads – until now, a little publicised fact.
In July 2020, a 90-year-old woman was killed in a car crash at the crossroads; the council admits it has had scores of complaints about the junction.
Last Friday, residents met county council Russell Oppenheimer of Petersfield to press for safety works.
Montague Gardens resident Georgina Dance said: "When he crossed the road at the crossroads a driver blasted his horn and he nearly got run over, which was a bit ironic.
"It's his responsibility to sort this out; if I didn't fulfil my role there would be consequences.
"But these councillors seem to have Teflon shoulders, it's just excuse after excuse.
"Chicanes along Pulens Lane would be one answer, or maybe we should all park our cars along Pulens Lane to slow traffic down.
"The road isn't safe for motorists, pedestrians and cyclists, so why is nothing meaningful done?"
In an effort to slow traffic along the busy road, there are new road markings and signs.
Cllr Oppenheimer is the council's cabinet lead for highway operations and said: "Cllr Rob Mocatta and I have been discussing action with officers and are actively exploring ways to use the funds available.
"Many traffic-calming techniques have been implemented in Pulens Lane in the past five years.
"I accept that more intervention is needed. I cannot give any firm indications on timing but we are addressing this issue with all due urgency."
The council also said a traffic survey it paid for that supported claims drivers were speeding along Pulens Lane isn't evidence to do anything as it was carried out between lockdowns.
Since at least 2020, campaigners, including EHDC deputy leader Julie Butler, have been trying to get meaningful safety works at the crossroads.
Comments
To leave a comment you need to create an account. |
All comments 0