Film of six month drive cross India in old Rolls
Sunday 7th November 2021 2:27 pm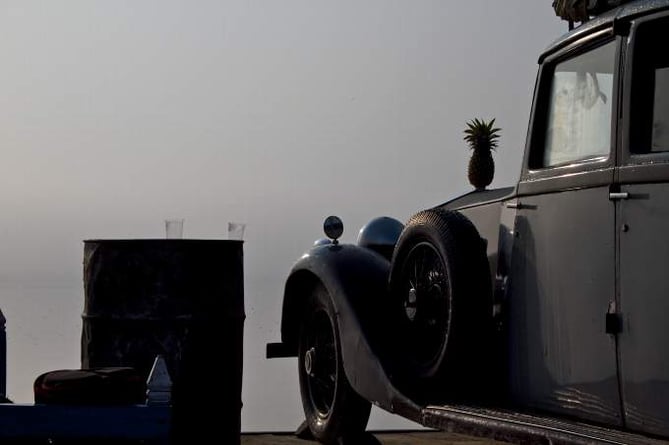 The Greys Rolls Royce on a misty Indian morning
Subscribe newsletter
Subscribe to our email and get updates right in your inbox.
A COUPLE from South Harting who drove their 1937 Rolls Royce about 8,000 miles across India in around six months say a similar journey from the bottom of Canada to Alaska is tempting them.
Rupert and Jan Grey live below the downs on the outskirts of the village near Petersfield; the house was his father's, as was the Rolls.
Both were left to Rupert, a man now in his mid-70s happy to tackle any challenge, when his father, a doctor, died in 1982.
The Greys and their daughters Katherine, Rose and Carmody have lived there ever since.
Mr Grey, a lawyer and photojournalist, said: "We are planning a trip across Europe, and talking about driving up through Canada to Alaska and the Yukon, but that won't be for a couple of years."
But the India trip almost never happened. In the cold winter of 2011, Rupert forgot to put any anti-freeze in, consequently the engine needed rebuilding.
It was rebuilt right down to the gearbox by Jim Stokes of Jim Stokes Workshops in Waterlooville, who returned the ageing Rolls to mint condition.
So finally in the autumn of 2012 they set of for India – and nine years on, their trip across India that began in Mumbai is still stage centre.
They were accompanied on it by godson Oliver McGarvey, a young filmmaker who had just left film school in Paris.
He shot more than 400 hours of footage of their epic journey on a small hand held camera.
And in one of those strange quirks of fate, one of Rupert's clients from his past life as a lawyer, actress Sharon Stone, saw an early version of the film, offered advice, and in October it was released.
It premiered at the Gate Cinema in Notting Hill; the screening was followed by a Q&A session with the packed audience chaired by naturalist Ray Mears.
Mr Grey said: "We really didn't realise how good a cameraman Oliver was, he is our godson, and good company and we just thought why not when he asked to come along.
"But it turned out he was a marvelous film maker, he shot really amazing footage with no retakes; the deal was that we weren't making a film, we were on a trip."
Oliver's film 'Romantic Road' follows them across India; they stayed in Maharajas' palaces in Rajasthan, cheap hotels in Uttar Pradesh and timber-framed houses high in the Naga Hills.
In Bangladesh, Rupert, Jan and the Rolls, were welcome guests of honour at Chobi Mela, an international festival of photography and human rights.
It was founded by close friend, Dr Shahidul Alam, a photographer and activist who has been jailed and tortured for his beliefs.
'Romantic Road' is being screened at 6pm on Nov 14 in Bognor and at Boatyard Number 6 in the Historic Dockyard in Portsmouth on December 9.
Comments
To leave a comment you need to create an account. |
All comments 0