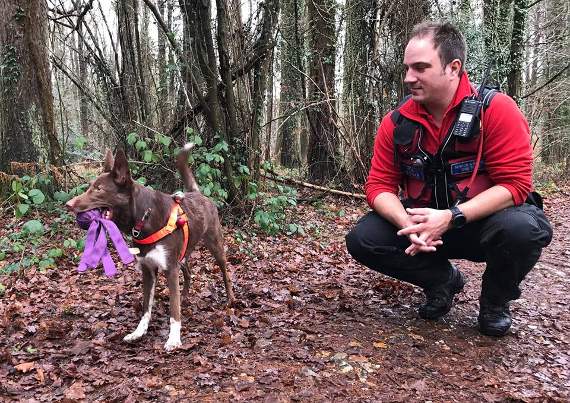 Special Constable Kevin Saunders and Border Collie Rusty are part of Hampshire Constabulary's Special Constable Search and Rescue team
()
Subscribe newsletter
Subscribe to our email and get updates right in your inbox.
A SPECIAL constable who has devoted thousands of hours to developing and transforming the deployment of search and rescue teams has been awarded an MBE in the Queen's New Year Honours list.
Special Constable Kevin Saunders has been recognised for policing services provided to rural communities in the Alresford area.
The 37-year-old was instrumental in setting up Britain's first collaborative Special Constable Search and Rescue team, a model which is now being replicated in forces across the country.
The specialist team provides an immediate boots-on-the-ground response capability, including specially-trained dogs, to assist in the search for vulnerable missing people.
Mr Saunders has devoted seven years to volunteering and developing search and rescue, combining it with his day job as an alarms engineer.
He leads and provides rigorous training to his team of Special Constable volunteers, co-ordinating 24 hours a day, seven days a week availability, with more than 250 deployments himself.
Mr Saunders said: "I am absolutely honoured. It's not something you expect to receive. It's recognition for me doing something I am massively passionate about.
"I am so proud of the work the Special Constable Search and Rescue team has done.
"Personally, I have been involved in search and rescue for about 14 years now, and I always wanted to be a police officer.
"While serving in the Territorial Army and completing a seven-month tour of Iraq, I had seen working dogs and when I got back I knew I wanted to work with dogs myself. It's been a whirlwind ever since."
Kevin has two Border Collies – 11-year-old Zak and three-year-old Rusty – who help him search for missing people.
As part of his duties, he gives up his spare time to help search in rural locations across the county.
He was recognised by the PDSA in 2015, after he and Zak saved a man's life, and had a Dogs Trust Honour award nomination in 2012 after locating a vulnerable elderly person in a remote location.
He said: "My real passion is search and rescue and I want to push the boundaries of what the Special Constabulary do and how they assist."
Chief Constable Olivia Pinkney said of Mr Saunders: "His award reflects so highly on all of our Special Constabulary and the important role they play."