A lions mouth, beehives, spindle trees, and teletubbieland make for a relaxing walk
Friday 11th December 2020 12:00 am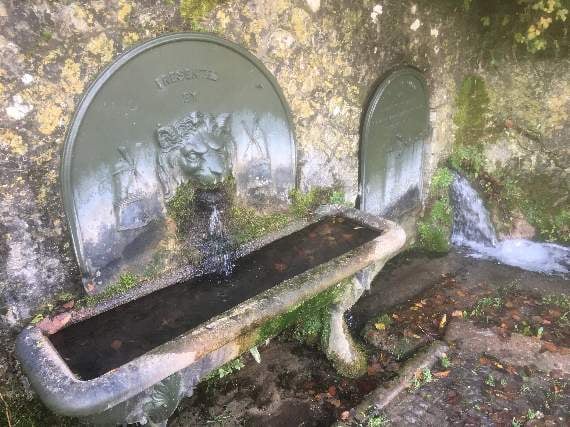 The Lion's mouth fountain at Selborne supplied the village with water until mains water was installed
Subscribe newsletter
Subscribe to our email and get updates right in your inbox.
A lion's mouth fountain, beehives and spindle trees welcomed retired NHS worker JANE BARTLETT when she visited to her go-to hill in hard times for a calming walk soon after Lockdown2 was announced.
I visited Noar Hill in Selborne just after Lockdown2 started, as it's my go-to place that soothes and calms my soul in hard times and evokes so many happy childhood memories for me and my children.
It started working its magic as I got out of my car – how very fortunate we are to have such lovely countryside on our doorstep.
As you come into Selborne along the B3006, look out for the ' lion's mouth' on the left.
This Victorian iron water fountain is shaped like a lion's head flanked by windmills on either side.
The water flows from the lion's mouth into a trough.
Next to it is a metal door inscribed: 'This water supply was given to Selborne by voluntary subscriptions in memory of Gilbert White, 1894.'
Behind the door is a ram pump worked by hydraulics that pumped water to standpipes in Selborne until mains water arrived in the village in 1934.
Just after the lion's head is a left-hand turn taking you up Galley Hill towards Noar Hill.
Go up the hill and take the first on your left. Go along the lane until you come to Charity Farm Cottage.
The start of the walk is down a track almost opposite the cottage, and you park your car on the verge .
My sister Sophie is a painter, both house and artistic, and many years ago she painted the cottage's window frames.
The elderly country couple who lived there had two pet poodles.
And surprisingly they were very aggressive guard dogs, Sophie told me.
She added that coming down her ladder she was extremely fearful as they would be there at the bottom waiting for her – and let's just say they were not always welcoming!
Noar Hill is a 160-acre site of Special Scientific Interest and is also a Nature Conservation Review Site and part of East Hampshire Hangers Special Area of Conservation, and 49 acres of it is a nature reserve – and it is particularly well known for its many types of orchids.
Walk up the track opposite Charity Farm Cottage, with its overhanging hazel trees.
Their leaves are almost a luminous green after recent deluges of rain, and hedges and banks are glowing with their foliage of bronzes, browns and golden tints.
An apple tree was along the way and I wished for a bag to put the windfalls in.
The chalky path was slippery with fallen orange and brown leaves, with their lovely autumn smell.
Walking steadily up the path, the shocking pink berries of a spindle tree caught my eye. Their orange seeds poking out are almost ready to be eaten by birds, mice and even foxes – they are then dispersed from the parent tree in their droppings.
These seeds are toxic to humans, although thankfully there aren't many recorded cases of spindle tree seed poisoning!
At the top of the track, go through the gate on the right. Next to it is a lovely old cow pen that reminds me of childhood.
On the right is a small piece of fenced-off scrubland; here Plantlife conservation charity is working with Hampshire and Isle of Wight Wildlife Trust and Natural England to encourage the growth of juniper trees on Noar Hill.
Further along the path you will come to an amazing irregular network of pits and hollows of varying size, depth and steepness. We refer to them as the 'bumps' and my children loved riding their bikes over them.
The first time I took my lovely nephew Harry to see them he got very excited as he thought it was where the Teletubbies lived; it really does look like Teletubbieland!
Head across the bumps, bearing left, and climb up to join the track, and turn left and then turn right at the signpost and go down the narrow path.
Halfway along there is an opening into a field on the left.
Steer clear of the beehives along the field verge – sister Sophie got stung here last summer. There are amazing views here; it really is such a beautiful time of year.
While admiring this scenery I heard a very loud magpie calling, sounding like someone shaking a large box of matches!
At the end of the path turn right into the woods and the out into open fields. From here you have an amazing view of Hawkley church spire.
Turn left along the edge of the field, go right at the signpost and follow the path towards Kings Farm. The path turns into a lane that leads you back to the car park.
The postcode for this walk is GU34 3LW.
AS A 1960s child growing up on pig farm in Hawkley, I quickly became used to farm-related journeys in our old mini-van being 'on the way,' when we set out on family outings or school runs.
Nowadays some of the antics would be frowned on, but at the time they seemed safe, and we are still here today!
There was very little traffic on the roads then; when we walked the three-mile round trip to the village shop, we rarely ever saw a car.
Quite often we would share the school run with a couple of pigs being taken for sale and would have to keep them calm as Dad drove.
One time Dad was transporting a large Danish Landrace sow to a farm near Petersfield, on the way to Mum's antenatal appointment. He had wedged corrugated tin between the front seats and the back of the van and loaded the sow in the back and set off.
All was going well until Mum, who was heavily pregnant, heard loud grunting. She turned to see what the commotion was – only to come face to face with the pig! The sow had lifted the metal sheet with her snout and was keen to get through to the front seats.
This was a very big and heavy pig and naturally Mum was somewhat alarmed, but Dad managed to get the animal back under the barrier and a crisis was averted.
But a domestic crisis wasn't averted as Mum made her feelings crystal clear on the subject of sharing the van with farm animals!
Comments
To leave a comment you need to create an account. |
All comments 0