A little bird tells us: how an innocent tweet changed the fortunes of Petersfield bookshop
Wednesday 22nd January 2020 12:03 pm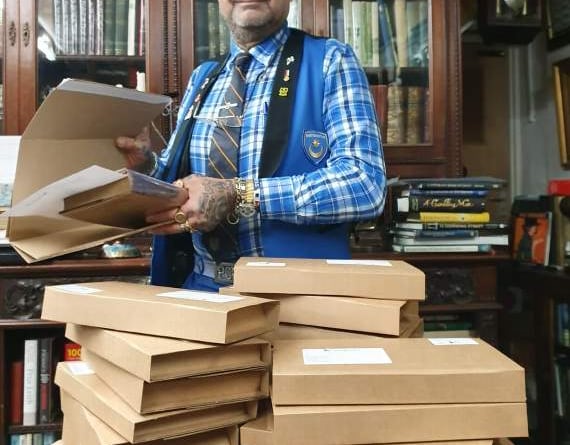 Business has picked up at The Petersfield Bookshop, much to the delight of owner John 'Portsmouth Football Club' Westwood
Subscribe newsletter
Subscribe to our email and get updates right in your inbox.
A VIRAL tweet about a "tumbleweed" day at The Petersfield Bookshop may have saved the store from closure.
The Chapel Street store has made headlines around the world since Robert Sansom sent an innocent tweet about the shop's worst ever day of trading last Tuesday, January 14.
The post went viral after Portsmouth writer and publisher Matt Wingett brought the tweet to the attention of world-famous fantasy author Neil Gaiman.
What happened next was out of this world as Gaiman shared the post with his 2.1million followers.
Mr Sansom's original post has been retweeted 9,200 times and attracted close to 20,000 "likes" while the massive spike in interest caused their website to crash for a period.
The story made international headlines from Britain to Brazil and has featured on BBC's The One Show, World Service News and American Public Service Radio during the past week.
But while it's definitely a good news story, Mr Sansom believes the outcome could have been very different without Mr Wingett's help and Gaiman's subsequent retweet.
He revealed to the bookshop's old and new followers on Sunday that it was "wasn't clear the store would survive till the end of the week".
"I didn't mention it at the time of the tweet but things weren't good and we were quite close to the edge," said the bookseller of 13 years to the Post on Tuesday.
"The bills all needed paying at once and John and I were asking ourselves where the money was going to come from.
"It's still fragile but thanks to all the goodwill and sales we're in a better place."
The store, which is more than a century old, has taken on volunteers to help with processing the dozens of online orders from places afar as America, China, Australia and New Zealand.
Recent retweeters have included Gyles Brandreth and Dom Joly while plenty of well-known and best-selling authors have offered to hold book signings at the legendary bookshop since Robert posted.
"Most of the people have been buying reasonably low-priced books instead of high-end stuff," added Mr Sansom.
"But it doesn't matter how cheap or expensive they are, as every sale makes a difference.
"There must be lots of businesses in Petersfield that have dark days but on this occasion it's turned into something wonderful for us."
In response to their newfound 'celebrity' status online the bookshop is keen to help their counterparts.
Every Sunday they will give an online 'shout out' to an indie bookshop, publisher or book person in a bid to help the trade in general.
"Last Saturday a bookshop of 83 years in Upminster closed their doors for the last time and nearer to us, in Portsmouth, Adelphi Books, a crime fiction specialist in Albert Road has closed in the past week or so, unable to make a rent hike," tweeted the bookshop at the weekend.
"It was nothing short of miraculous this has happened to us in the same week that could have seen us go the same way and we are truly grateful."