Brave wartime pilot is honoured in Liss
Thursday 5th May 2022 9:53 am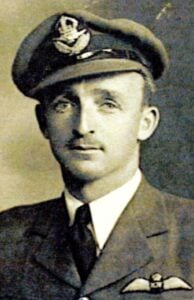 Subscribe newsletter
Subscribe to our email and get updates right in your inbox.
ABOUT 30 people attended a commemoration service for a Second World War pilot who stayed with his plane in an effort to make sure it didn't crash into houses in Liss Forest as it spiralled into the ground.
The service at the recently refurbished memorial to Pilot Officer Richard Pryce-Hughes was held 80 years to the day after his Halifax bomber crashed at 4.55am on April 15, 1942.
Reverend Peter Coley (retired priest serving in St Mary's Church Liss) led the service at the memorial on heathland at the northern end of Liss Forest on the road to Greatham.
He said: "There were about 30 people at the service mainly from the village.
"The Liss Royal British Legion was represented by their chairman Lt Col Terry O'Connell and The Last Post was played by Geoff Parr of the Liss Band. The Poppy Appeal also had a representative there."
PO Hughes died after ensuring his crew had safely bailed out of the plane at is spiralled earthwards from 7,000ft, but bravely remained at the controls until it crashed into the heathland away from any houses.
He was 35 at the time, and was from Buenos Aires in Argentina, where he left his wife Jane Elizabeth Gillian James, née Hughes, and two young children.
He and Jane married in 1932 in Truro in Cornwall. She lived at Grampound in the county, before emigrating to Argentina, to run a cattle farm.
While there he learned to fly a light aircraft as a way of covering long distances over the South American pampas to remote areas of his ranch.
When war broke in 1939 he went to the British Embassy in the Argentinian capitol to enlist as a pilot in the Royal Air Force.
But he was told he was to old, so he and other expatriates travelled to Canada to join up.
Once there he faked his age, and joined the Royal Canadian Air Force and trained as a bomber pilot, before transferring to the RAF in England.
On arrival he was posted to 10 Squadron, flying four-engine Halifax bombers from RAF Leeming airfield in North Yorkshire.
On April 14 he was piloting Halifax 9492 on a night bombing raid of Dortmund in the industrial Ruhr valley of Germany.
His crew aboard the bomber, call sign Zulu Alpha Gulf, were Sergeant R Atkinson, Sgt Trembath, PO Ganderton, Sgt Stubley, Sgt Triggle and Sgt Tyson.
Arriving over Dortmund, bad weather forced PO Hughes to circle the target area for 25 minutes before there was the chance of a clear bombing run.
During the time circling the city, he reported the fuel line from No5 starboard fuel tank had been pierced by anti-aircraft fire.
On the way home the plane was crossing Hampshire when both starboard engines died.
While the aircraft had sufficient height, PO Hughes immediately ordered the crew of six to bail out, which they did successfully.
He then tried to make an emergency landing, but lost control and the Halifax spiralled to the ground from 7,000ft.
He spent the last few moments of his life desperately trying to find somewhere to crash land well away from houses in Liss and Liss Forest.
The crash on what was then called Greatham Common happened just before 5am.
One of the first people on the scene was a member of the local Home Guard, Ernest Berriman, who found the crashed plane.
Mr Berriman's son, Tony, who was a young boy at the time, remembers seeing the Halifax flying low over Liss Forest and his father rushing out to the scene.
PO Hughes was buried in St Chads Church, Wrinehill Road cemetery in Wybunbury, Cheshire, three days later on April 18 with full military honours.
Records show his father Pryce Edward, a merchant farmer, and his mother Betty Bessie Hughes, both of Gresty Lodge near Crewe, were later buried in the same grave.
His cousin George who flew Mosquito fighter/bomber planes during the war was killed in the same year as PO Hughes and is buried in Jutland, Denmark.
In 1992 a memorial to PO Hughes was built and flowers from Argentina appeared on it every few years.
It's thought his wife and their descendants, a great grandson Andy among others, still lives in Buenos Aires.
Walkers often place stones and poppies on the memorial in a touching gesture to PO Hughes' bravery.
And David Spear, the great nephew of Pilot Officer Hughes who lives in the UK, said he was delighted that his bravery was being honoured.
He said: "There were something like 52,000 bomber crew members who were killed during the war, none of whom were given campaign medals.
"It is very touching that 'Uncle Dickie', as he was known to the family, will be remembered again."
Comments
To leave a comment you need to create an account. |
All comments 0