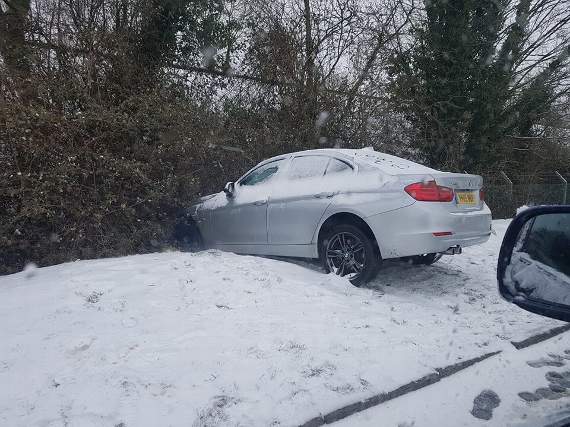 This car couldn't make the sharp bend in Bedford Road and carried on into the hedge, ending up overhanging a stream
()
Subscribe newsletter
Subscribe to our email and get updates right in your inbox.
AS THE snow returned this afternoon (March 2) youngsters were still out enjoying it, but for one Petersfield driver it was all too much.
This silver car travelling along Bedford Road from the Winchester Road direction at about 12.45pm today went past the recycling tip, came to the junction and carried straight on into the hedge, coming to rest on the bank of a small river.
A witnesses said: "It came from McDonald's way past the dump and tried to turn and just carried on head first onto the river bank."
And although this afternoon should see the last of the snow, there isn't likely to be a dramatic improvement in the weather until next week.
The Met Office said that today temperatures will remain below freezing for many, with strong winds making it feel even chillier.
Met Office meteorologist Steven Keates added: "We are not out of the woods yet. "There's further snow to come, as well as a wintry mix of sleet and freezing rain.
"Even parts of the South East are not immune to seeing more snow through the afternoon - not as much as yesterday, but still enough to cause further disruption."
Yellow warnings for snow are in place for vast swathes of the country, including Hampshire, for the rest of the day.
Tomorrow, Saturday, is likely to see the start of the thaw with rain forecast to arrive in parts of the south.
But the met office is warning this could make driving conditions more hazardous as the rain may turn into sheet ice when it hits the freezing roads.