A broadcaster's life –and near-death – story
Sunday 23rd January 2022 12:06 pm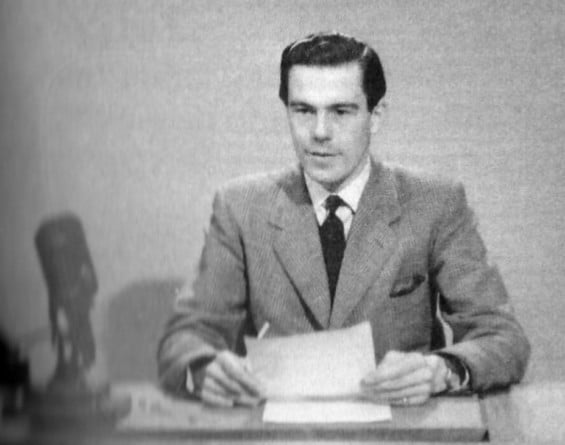 Subscribe newsletter
Subscribe to our email and get updates right in your inbox.
A LOCAL broadcaster, actor, writer and radio and TV presenter has published his memoirs – the candid and humorous account of Martin Muncaster's life can now be ordered from One Tree Books.
Martin, 87, was the voice –and face – that fronted a 1,000 (or so) South Today programmes from 1961 to 1964, and lives along Mill Lane in Steep.
It took him more than four years to condense his varied and exciting life, interrupted by narrow escapes and foreign jaunts, into 336 pages.
Martin, who had TV roles in Yes Prime Minister, Dr Who, The Bill and French and Saunders, said: "I wrote it in longhand by pen, then a lovely lady in Froxfield, Sue Clegg, typed it up and printed it out.
"Then there were many corrections to the proofs, but finally it was correct and published.
"And I was lucky to be able to write it – during my travels I have been involved in accidents and mishaps that could have been fatal, including one in Surbiton.
"But on the other hand, I did meet many interesting and well-known people such as Sir Laurence Olivier, Richard Dimbleby, and Terry Wogan, among others."
Martin was born in Tillington, near Petworth, and educated at Stowe school.
On leaving school, he completed his national service in the Royal Navy in 1955 after training as a signalman, and finally becoming an officer on a minesweeper in the Mediterranean.
Martin, who appeared in films such as Cleanskin (2012), starring Sean Bean, and Blue Iguana (2018), starring Simon Callow, said: "The main difference was the language – the seamen's mess deck was all swearing, and the officers' wardroom wasn't, and I got a cabin with my own bunk."
And it was his love of the English language, properly spoken, that was to stand him in good stead in later life.
In 1956, Martin was asked to voice a 13-part series for Radio Luxembourg about famous American composers. For his first TV commercial he was paid 15 guineas.
He then travelled to Canada and worked as an actor with the Canadian Broadcasting Corporation and appeared in William Douglas Home's The Reluctant Debutante.
In 1958 he returned to the UK and was offered two weeks' work as a BBC TV announcer, which turned into several months.
He later joined local ITV, based in Southampton, as an announcer, newsreader and reporter before it began broadcasting on August 30, 1958, and remained until 1960.
He was joined by Meryl O'Keeffe and Julian Pettifer, before moving back to BBC TV for the new local news programme from Southampton, called South Today that was first broadcast on January 5, 1961.
Martin, whose interests are the countryside, sailing, maritime matters and communication, said: "I was the first South Today presenter – it was a terrific young team and we had wonderful time."
He remained with the programme until 1964, becoming a popular and well-known celebrity locally.
Then from 1961 to 1973 he worked for network BBC TV as a compére on Come Dancing and a presenter on Songs of Praise from 1974 to 1976, and again in 1980.
He appeared on the Songs of Praise 50th anniversary celebration broadcast on October 2, 2011.
He also presented features on Michael Aspel's Monday Show and had spells reading the news bulletins on the regional news magazine programme for London, Town and Around.
In autumn 1969, he presented a special concert given by the Bournemouth Symphony Orchestra at the Bournemouth Winter Gardens to mark colour TV coming to BBC Two.
He was on overnight duty when Churchill died on January 24, 1965, and read tributes from world leaders.
Martin also worked for BBC TV presentation for 12 years, voicing BBC TV programme trails, and also read the shipping forecast.
On one occasion, a page of the script with the forecast for the inshore waters was missing.
Martin said: "Unfortunately the prime minister Edward Heath happened to be sailing off western Scotland at the time. He heard the broadcast, contacted the director-general, who passed on the complaint to David Lloyd James, head of presentation."
And from 1965 until his final series for the BBC South in the mid-1990s – Southern Ways –he was almost continuously in work.
And in between working for the BBC, ITV and independent productions, he ran his own video company, Canopus Communications, working on films and videos for commercial clients.
Martin has also written The Yachtsman's Quiz Book and The Wind in the Oak, about the life of his well-known artist and sailor father Claude Muncaster, for which Prince Philip did the foreword.
He said: "This latest book is my life story. It's full of anecdotes, mistakes and successes – and photographs."
Comments
To leave a comment you need to create an account. |
All comments 0