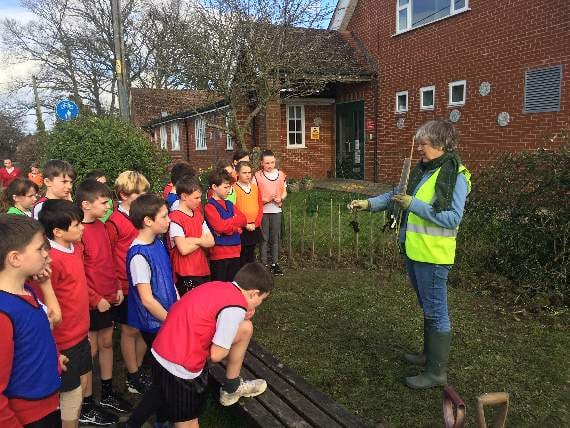 Pupils learn about their new hedging plants and how they are protected from animals and garden machinery
()
Subscribe newsletter
Subscribe to our email and get updates right in your inbox.
Pupils from Greatham Primary School have helped to plant a 'wild harvest' hedge along the front of their school, thanks to a grant from the Woodland Trust.
Parents, pupils and staff joined forces with Greatham residents and students from the L'Abri Fellowship in Greatham to plant more than 200 young plants.
Hazel, blackthorn, crab apple, dog rose, elder and rowan plants – plus tubes and stakes to protect them from rabbits and strimmers – were provided free by the trust.
Headteacher Jo Goman said: "We are thrilled to be able to do this with the children and they will learn about the importance of hedges for wildlife, and will have fun watching their plants grow and produce flowers, nuts and berries for the birds and bugs, or for making jams and jellies if they do well.
"This green barrier will also help to protect our children in the playground by absorbing some of the toxic emissions from passing cars.
"We all need to do our bit for the environment and we are very grateful to the Woodland Trust for enabling us to do this."
Greatham tree warden Anna Dale-Harris said: "We are keen to educate the children and the wider community about the huge benefits of planting hedges alongside roads."