Hugh Bonneville tells Royal School pupils about an actor's life
Wednesday 8th November 2017 1:00 pm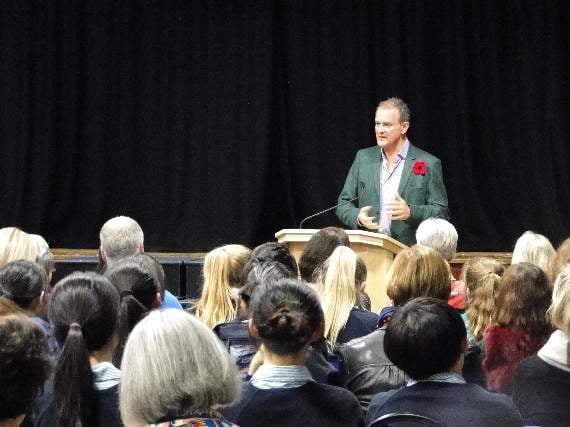 Actor Hugh Bonneville speaking to Royal School pupils.
()
Subscribe newsletter
Subscribe to our email and get updates right in your inbox.
THE ROYAL School hosted Hugh Bonneville, star of stage and screen, in the second of the 2017/18 Royal Lecture Series, a lecture series which welcomes a wide variety of speakers from all areas of life.
As a renowned member of the British acting elite, Mr Bonneville has made countless appearances in television, film and on stage and his popularity was evident from the packed auditorium.
Pupils, staff and parents were delighted to have the opportunity to hear from such a well-respected and high profile figure.
The event on October 31 began with the Hindhead school's Head of Drama Mr Taylor-Gooby introducing Mr Bonneville and asking questions about his early career. Mr Taylor-Gooby then handed over to Year 10 and 11 Drama students from The Royal School, who asked their own questions, such as "Have you ever been star-struck?" and "How did you get into acting?"
These questions allowed Mr Bonneville to speak of previous projects like 'Downton Abbey', ongoing ventures such as 'Paddington 2' and possible plans for the future.
Principal Mrs Anne Lynch said: "We were delighted to welcome Hugh Bonneville to The Royal School. It was such a privilege for our students to be able to ask such a prestigious and professional actor about the hard work, perseverance and resilience that are necessary to succeed in the world of theatre.
"It was also very exciting for us all to find out about the filming of Downton Abbey and Paddington 2. We are very grateful to Hugh Bonneville for giving up his time to come and speak to our community."
Isabel, Year 11, said: "Mr Bonneville gave us a great insight into the world of a professional actor and explained to us how actors, young and old, experienced and inexperienced, have to face the audition process and more often than not have to deal with rejection.
"We learnt how the life of an actor is not just about red carpet events and stardom but also involves insecurity, hard work, and a passion for acting.
"At the end of the evening we were very pleased to present Mr Bonneville with his very own Royal School teddy bear, just in case Paddington is ever unavailable."