Review: Mayflower's 'Waitress' is as American as motherhood and apple pie
Thursday 26th May 2022 2:18 pm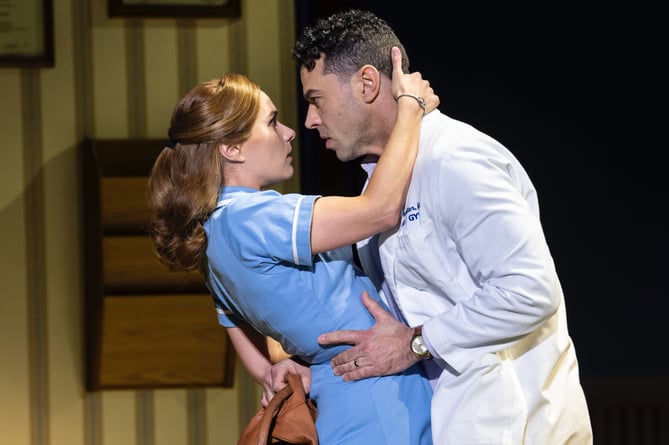 Waitress has music and lyrics by American singer-songwriter Sara Bareilles and a book by Jessie Nelson based on the film of the same name by Adrienne Shelly
(Johan Persson )
Subscribe newsletter
Subscribe to our email and get updates right in your inbox.
With the popularity of cake making in the pandemic and success of TV's Bake Off, baking has come to be seen as an uplifting pastime and a route to a new life – some of the basic ingredients of Waitress, the hit West End musical now at Southampton's Mayflower Theatre. 
Jenna is unhappily married and stuck in a low paid job but she finds solace with her workmates and by baking pies from her own recipes that wow customers at the diner where they toil. She dreams of winning a pie making contest and escaping her drudgery but finds herself pregnant with a child she doesn't really want.
You could be be forgiven for thinking Waitress sounds like a sugary confection but it's a more complex mix that veers from slapstick to poignancy. Amid bursts of song and some quite edgy comedy, it tackles the difficult subject of domestic abuse and control.
Chelsea Halfpenny brought a believable vulnerability to the role of Jenna that lent credibility to the less plausible parts of the plot. When she delivered the showstopper She Used To Be Mine you could almost feel a communal frisson undulate through the audience.
Jenna expresses her feelings and experiences through the pies she creates, with the names she gives them, such as White Knuckle Pie and Betrayed by My Eggs, revealing her inner thoughts. 
It is her unplanned pregnancy that brings her into contact with her new doctor with whom she begins an unlikely (and possibly unethical) affair, so perhaps proving the old adage that the way to a man's heart is through his stomach.
The East Coast doc (former Busted band member Matt Jay Willis, convincingly comic and caring in turn) is the opposite of Jenna's bullying and manipulative "red-neck" husband, channeling a Mr Bean-type clumsiness in her presence at the start of their relationship while still being irresistibly sensitive.
With a score by Sara Barreilles and book by acclaimed screenwriter Jessie Nelson, Waitress is based on an indie film of the same name penned and directed by Adriennne Shelly back in 2007, long before cake became king and baking ruled the television schedules.
When it debuted, Waitress was hailed for its rare all-woman production team but that doesn't necessarily make it a feminist project. Baking aside, it certainly has elements many women would relate to in their lives, but while it celebrates female strength and friendship, Jenna's salvation (without giving too much away) comes from a surprisingly traditional source. 
Ultimately, it is a bitter-sweet tale that's liberal in its forgiveness of human frailties but rather conservative at its conclusion – and is as American as motherhood and apple pie.
Comments
To leave a comment you need to create an account. |
All comments 0