Two winners of Netflix's hit series Blown Away, Elliot Walker and John Moran, are to showcase their skills at the University for the Creative Arts (UCA) in Farnham next week as part of October Craft Month.
John, who currently lives and works in Belgium, and Elliot, who bases himself in Stourbridge – a well-known mecca for glassmaking – are hosting live-streamed glass blowing demonstrations and an in-person artist talk and Q&A on Friday, October 27.
Laura Quinn, technical tutor in glass, who helped arrange this event, said: "UCA is home to one of the few remaining third level glassblowing facilitates left in the UK and Ireland. It is vital now, more than ever, that we invest in the next generation of glassblowers.
"Being in a World Craft Town, the UCA Ceramics and Glass department is an integral part of our craft heritage and Elliot Walker and John Moran are two of the most renowned international glass artists. Not only will they be demonstrating to local and national visitors, but this is also a huge opportunity for our students to meet their heroes and learn from the best. 
"This project has been in the works for over a year now, and what it has evolved into has never been done before in our glass workshops. I am excited to share our world-class facilities with both an in-person and a global online audience. Be prepared to be blown away!"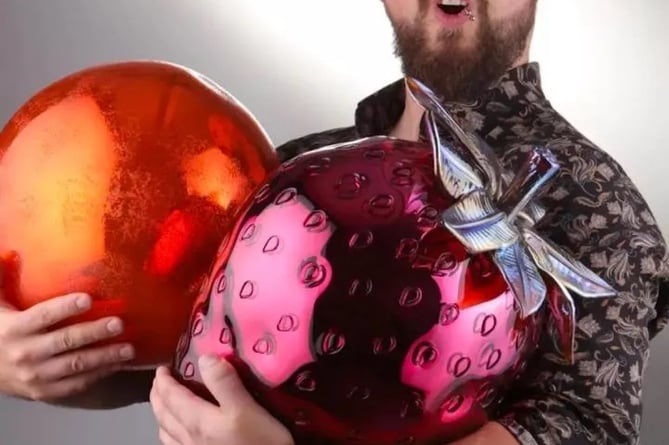 Elliot Walker, winner of season two of Netflix series Blown Away
(Simon Bruntnell)
Elliot, who won season two of Blown Away, calls himself a sculptor working with molten glass as his primary medium.
He said: "I am a dedicated experimenter with my chosen material and am constantly trying to challenge myself and the audiences od my work to abandon many preconceptions of the material."
John, who won season three of the contest, originally wanted to be a painter and illustrator before he discovered glass. But, on discovering this new material and developing his sculpting techniques, he became fascinated with creating something recognisable in a material that was so unusual and using this to tell a story ­– something that would lead him to a bigger picture.
John said: "I love this part of the process, finding meaning through ideas and concepts and then playing with different ways of expressing them.
"I'm hugely influenced by early (lyrical) hip hop, so playing with narratives through simile and metaphor is built into my creative process."
John calls himself a politically and socially engaged hot glass sculptor, mixed media artist, and an all-around nice guy, which explains why he places such value on the community aspect of glassmaking.
"I love the community that surrounds it," he said. "We always work in teams and we're a close-knit group of impatient perfectionists who like to hang out and talk shop."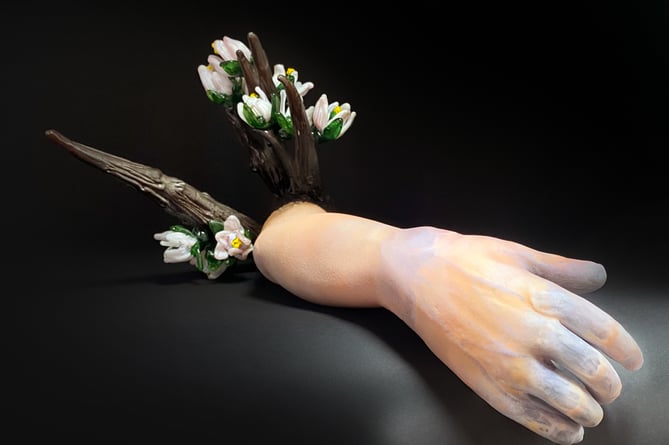 Even Small Changes Are Pretty Evolutionary by John Moran
(John Moran)
But what is it about glass that inspired John to work with it, and did he succeed from the start?
John credits the material as the reason why it inspires him every day. He calls it the "excitement of discovery", the way glass moves and breathes that makes it incredibly unique.
He also talked about the years of failure before he began his journey with glass.
"When I started, there were very few sculptors, the hot torch was not even a thing, and there was little choice when it came to colour. I was also terrible," explained John. "It took me a few years to find my footing in the studio, luckily, I had some really good teachers. I spent years learning the basics of glass blowing; trying to understand the material, experimenting, developing my sculpting techniques, and my style."
John advises others to do the same: "Follow your own path and don't let other people dictate your dreams."
Come to UCA and listen to Elliot and John as they discuss their most recognisable glass sculptures, their inspiration, their creative process, and give valuable insight into this increasingly popular choice for craftspeople. 
To book a place at the artist talk Q&A session with Elliot Walker and John Moran on the evening of Friday, October 27 at 6pm, visit UCA's events page.