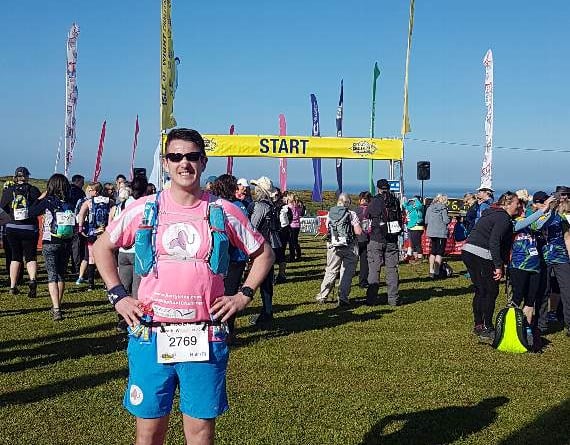 Gareth Warne is raising funds for Reverse Rett in memory of his sister Angharad, who died aged 17
()
Subscribe newsletter
Subscribe to our email and get updates right in your inbox.
A MAN who works in Greatham is taking on a series of endurance challenges this year to raise money for charity in memory of his sister.
Gareth Warne, who works for the Yes Yes Company in the village as a key account manager, is raising funds for Reverse Rett.
Gareth is raising the money in memory of his sister Angharad, who suffered from Rett Syndrome and died aged 17. She would have turned 30 this year.
Reverse Rett is a charity which is working towards a cure for Rett Syndrome.
Gareth, who has already taken on the Muscle Acre Obstacle Race near Guildford and the Isle of Wight Challenge this year, will next be taking on the Serpent Trail 50k Ultra Marathon from just outside Petworth to Petersfield on July 7.
As well as raising money for Reverse Rett, Gareth hopes his endurance challenges will help to raise awareness of Rett Syndrome.
The condition is a neurological one which often strikes girls between their first and second birthday and leaves them with multiple disabilities and medical complexities for life.
Gareth is doing all of this while planning his wedding, which will be taking place two weeks after the Serpent Trail in July.
Gareth said: "Reverse Rett means so much to me and my fiance that instead of presents or help with a honeymoon, we're asking guests to donate to Reverse Rett. Fundraising is obviously very important but so is raising awareness of Rett Syndrome.
"You never know who might be affected directly or indirectly by Rett Syndrome, so the more people talk about it the better.
"Reverse Rett don't have the budgets of some bigger charities, so the money that they do have goes towards the research which is fantastic but does mean raising awareness is difficult.
"Even though there is no cure yet, there is plenty of support available these days for girls with Rett Syndrome and their families.
"I wish we'd known about Rett Syndrome when my sister was younger, sadly we became aware of it later in her life.
"Through my efforts, if I can help one girl/family to become aware of Rett Syndrome and/or the support available then I'd be very happy indeed."
Gareth is hoping to raise £3,000 for Reverse Rett this year, and he has already raised more than £1,500.