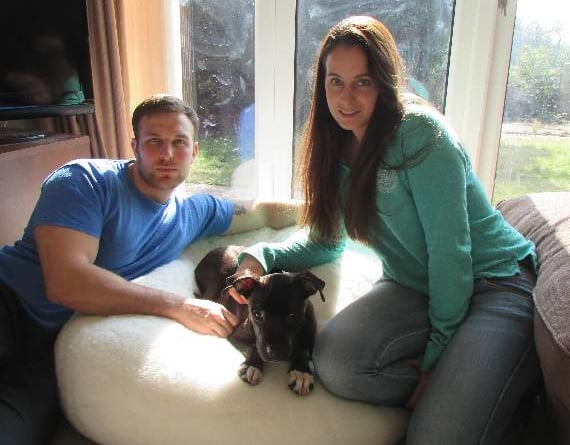 Rob Knowles (left), Coco and Sarah Hartwright at their home in Greatham
()
Subscribe newsletter
Subscribe to our email and get updates right in your inbox.
A GREATHAM couple have successfully managed to bring home from the Caribbean a dog that was just 48 hours from death.
As previously reported, Sarah Hartwright and her partner Rob Knowles were meant to be relaxing on holiday in St Maarten, when they found four-month-old puppy Coco.
After taking Coco to a vet on the island, the couple decided that they wanted to bring her back to the UK.
However, they needed to raise £1,000 to help make this dream a reality.
Last month the Post ran an article about Coco and the £1,000 target.
The donations continued to pour in and the target was soon reached.
And now Coco has arrived in Greatham and settled in to her new surroundings.
"We had such lovely comments from people and we always hoped people would help our cause," said Sarah.
"Pretty much all of the donations were from local people, which was really nice.
"We're really pleased and are surprised how quickly we were able to raise the money.
"Once we had the money we arranged everything.
"Coco was great, she travelled so well and was really relaxed throughout."
Sarah was full of praise for the vets in St Maarten, who looked after Coco while the money was raised.
"The vets in St Maarten were really good with Coco and they took Coco home from the surgery with them most evenings," said Sarah.
"The vets also organised all of Coco's vaccinations and her passport.
"The vets made a real bond with Coco and were sad to see her go, so we have been sending pictures and regular updates to them.
"One of the vets used to live in Hampshire and used to be a vet in Godalming, so they knew Coco would fit in well here."
Coco is now safely in Greatham, and Rob and Sarah are delighted with how she has settled in.
Sarah said: "Coco has settled in very well, even if she has had to adjust from 35C to the chilly English weather."
As a way of showing their appreciation, Rob and Sarah are going to let everyone who donated meet Coco.
Sarah added: "We have e-mailed all the people who donated and we are going to organise a time after Easter for them all to meet Coco.
"This is a very happy ending for Coco, and I would like to say thank you to everyone who donated.
"Rob and I did half of the job and the donors did the other half. Without them this wouldn't have been possible."