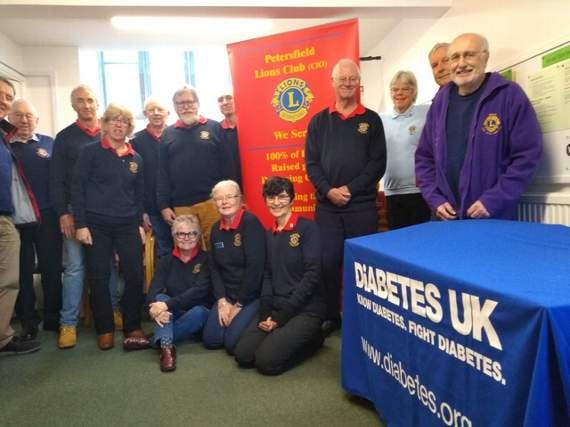 From left: Front – Mary Putman, Lin Piatek, Sandra Manktelow. Back – John Hanley, Derek Port, Steve Walters, Liz Smith, Trevor Copping, Mike Piatek, Simon Cole, David Putman, Judith Goodchild, John Goodchild and Roy Cuthbertson
Subscribe newsletter
Subscribe to our email and get updates right in your inbox.
Diabetes UK and the Petersfield Lions are holding an event to help local people find out about their risk of developing Type 2 diabetes and understand what they can do to reduce it.
The 'Know Your Risk' session at Winton House, 18 High Street, Petersfield on February 15 between 10am and 4pm is free and open to everyone.
Trained Diabetes UK volunteers will be there to help people find out their risk of developing the condition.
There are more than 450,000 people across south-east England who have been diagnosed with diabetes, and about 90 per cent of those have Type 2.
They might get Type 2 diabetes because their family history, age and ethnic background puts them at increased risk.
They are also more likely to get Type 2 diabetes if they are overweight. It is serious and can lead to complications such as sight loss, amputation, kidney failure and stroke.
Stephen Walters, the event organiser from Petersfield Lions, said: "This event is a way for people to understand their diabetes risk better and to get the advice they need.
"Early diagnosis followed by treatment is vital to the long-term health of the patient and if we can help spread the word and help raise awareness of the condition through the Petersfield Lions we have achieved our aims.
"Please come along to find out more about your risk of developing Type 2 diabetes and how to make changes to reduce your risk.
"To find out your risk of Type 2 diabetes only takes a few minutes. It could be the most important thing you do all year."
Jill Steaton, Diabetes UK's regional head for south-east England, said: "There are an estimated 12.3 million people in the UK at increased risk of developing Type 2 diabetes, are you one of them?
"Pop in to the Petersfield session and find out about your risk. We can help you understand more about its causes and how it can be prevented or delayed.
"With the right lifestyle changes, as many as three in five cases of Type 2 diabetes could be prevented or delayed by helping people understand their own risk of developing the condition."