How to create a perfect natural make-up look for St Valentine's Day
Friday 14th February 2020 3:00 pm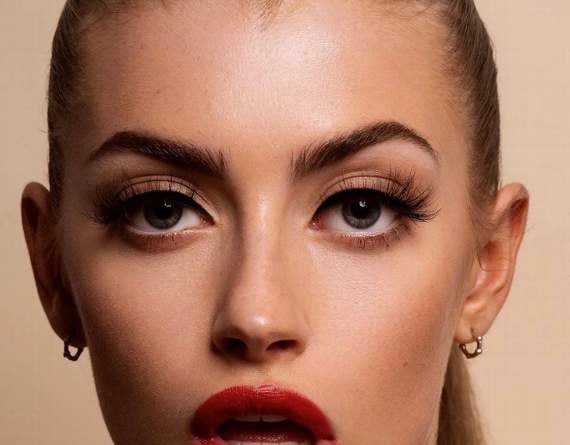 Red lipstick is a classic Valentine's look
Subscribe newsletter
Subscribe to our email and get updates right in your inbox.
Here are some of my tips on perfecting certain make-up techniques to ensure flawless make-up for St Valentine's Day.
Fill in your eyebrows in the way you prefer. An adjustment you can make is brushing your eyebrows upwards with a spoolie. This creates a fluffy brow illusion and it can look very soft and natural.
I press down with my brush or pencil when filling in my eyebrows, then flick up the end as if I was drawing a little dot with a faint line coming up from it.
This gives the effect of a natural eyebrow hair and looks the most natural with this fluffy brow illusion.
Brush through your eyebrows with a spoolie while doing your eyebrows as this helps the product look more natural.
Keep make-up light and flawless for St Valentine's Day. People often think that's impossible if they are prone to breakouts or pigmentation, as they think they need more product to cover anything up.
This isn't the case. Invest in the right colour correction for your worries, such as green for spots, or orange or red for under-eye circles.
Apply colour correction before foundation and blend out the edges slightly. Your foundation consistency will determine how thick you should go with your colour correction to ensure all the colour is hidden under your foundation.
When applying foundation, ensure you do not drag the product over areas you have colour corrected. This will mean the colour correction will move and lose its purpose.
You should pat your brush over the area, so the foundation will be on the skin but will conceal your face instead of moving corrected areas.
I love doing this on half my face and not using colour correction on the other half. This is a great way to see the difference and help you spot further areas you may not realise need it.
When applying bronzer, contour or blush, pat over any unset areas. If you drag a brush which has a cream product underneath, it will make the cream area go patchy and your bronzer or blush will break away a lot quicker throughout the day.
Eyeshadow is something people often shy away from. I love using a pink or rose gold tone around St Valentine's Day as it can be done subtly and looks nice with red lipstick.
When doing eyeshadow, have at least three brushes – one which your initial colour goes with, one which a more pigmented colour goes on with and one which has no product on at all which will help you blend. This should be a very fluffy brush.
Red lipstick is a classic Valentine's look. However, pink can also look nice if you don't feel confident enough to apply red lipstick.
When applying lipstick, a matte is a good option if you know you're going out for dinner as it will last the longest.
Invest in a little lipstick brush as this will help you get right into the corners of your lips, which is what creates a seamless, flawless look. If this isn't done it's often the cause of dark lipstick not looking its best.