NHS appeal to help manage Omnicron
Saturday 22nd January 2022 11:59 am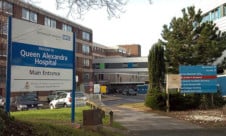 Derek Sandeman
Subscribe newsletter
Subscribe to our email and get updates right in your inbox.
OVER the winter as Omicron cases continue to rise, the NHS in Hampshire is coming under increasing pressure as infected staff self-isolate and more people suffering with the newest variant of the virus need treatment.
Across Hampshire NHS, services at hospitals like Queen Alexandra at Cosham (pictured right and below) continue to face significant demand.
Now Hampshire's medical chiefs are urging people to consider the severity of their need before visiting A&Es at the QA in Cosham, or St Mary's Hospital in Portsmouth.
But despite the growing pressure, health and care teams continue to work tirelessly to provide safe, high-quality care and manage the impact of rising Covid infections, says Derek Sandeman, chief medical officer for the Hampshire and Isle of Wight Integrated Care System.
He said: "During the course of the pandemic, we have seen countless people support the NHS in so many ways.
"None more so than the army of volunteers who freely gave up their time to help at the various Covid vaccination centres, and who continue to do so now, in all weathers. 
"People will be aware of the many challenges facing the NHS at present. 
"All our NHS services are busy.
"There are a number of important ways you can help the NHS to help you this winter, especially if you need care when it's not an emergency.
"We know it can be frustrating and worrying when trying to make an appointment, or if you are waiting for a call back, when things are busy.
"But please be patient and be kind and respectful to our staff.
"As always, the NHS remains here for people when they need it.
"Essential services remain fully open for anyone who needs them. If you require urgent medical help, please continue to come forward.
"But to help manage the impact on NHS services, we are asking people to help us to help them, and there are a number of simple tips we invite them to follow.
"These include ways for people to get the most appropriate service for their needs."
n See below for advice on helping reduce pressure on the NHS.
n Get vaccinated to help yourself and others
If you are 18 or over, get your Covid booster jab.
It's not too late to get your first or second dose either.
And don't forget your flu jab.
You will be protecting yourself and everyone you come into contact with.
n Remember the Emergency Department (ED) is for emergencies.
Hospital emergency departments and 999 are really busy and must be kept for emergencies.
GP surgeries are busy too.
Pharmacies can help with concerns about minor illness.
Minor injuries units, like the one at Petersfield Hospital (pictured), or Urgent Treatment Centres around the area, can see injuries, including limb fractures.
Try these ahead of ED or GP or contact 111 online if you are unsure.
n If you – or someone you know – needs urgent care but it is not a life-threatening emergency, contact 111 first.
Contact 111 online for urgent care and to talk to trained staff.
They will help you find the service you need or advise you on what to do.
They can even book you an appointment slot if you need one so you know exactly when to attend.
It can all arranged quickly and easily from the safety and the comfort of your own home.
n Urgent treatment centres are best for minor injuries.
Minor injuries or illnesses don't need the emergency department.
You'll be seen more quickly, by trained experts, at one of our many urgent treatment centres or minor injuries units for aches, sprains, strains, wound infections and even limb fractures.
NHS 111 can even book you in if you contact them first.
n There's no place like home if you're ready to leave hospital.
If you have a loved one or friend in hospital who is ready to go home, you can help by picking them up promptly.
A friendly face to ease them home is really important.
And it also means our hospitals beds can be made available quickly for other patients who need them.
n There is expert help on every high street.
Your high street pharmacist is a highly-qualified expert.
They can help you with concerns about minor illnesses, medicines or other well-being advice.
They can put your mind at rest very quickly.
Alternatively, they can point you in the direction of someone who can help should you need it.
n Your GP practice has online access and a range of expert help.
GP practices are very busy and that is why they will often triage requests to ensure they prioritise people according to need.
Using eConsult or your practice's online contact service helps the practice clinician get you the right help at the right time, including experts in the team to see you quickly.
nThere are things you can do to help yourself.
Keeping some everyday medicines and painkillers in a safe place at home can be really useful for dealing with minor bugs and illnesses like colds, stomach upsets and the occasional hangover.
n Make use of online help – and contact services online if you can.
The NHS has great online resources to help you check symptoms and get advice.
For more information visit the website at www.nhs.uk for health and medicines advice
And if you are concerned about an unwell child, visit the Healthier Together website at www.what0-18.nhs.uk
Comments
To leave a comment you need to create an account. |
All comments 0