Watering is still essential, despite no 'flaming' June
Sunday 19th June 2022 11:01 am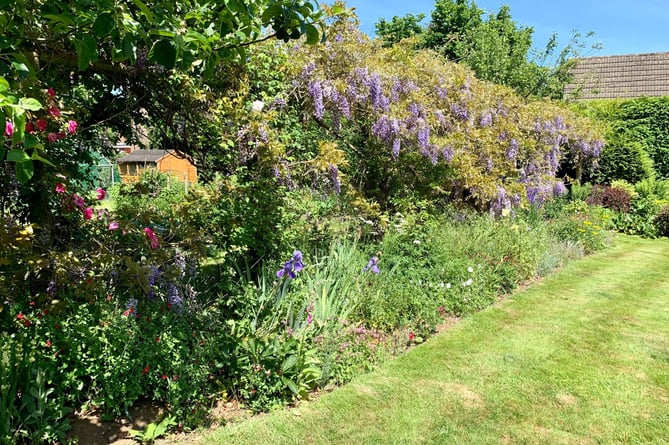 Subscribe newsletter
Subscribe to our email and get updates right in your inbox.
As I am writing this, the weather is glorious. But June as whole looks unsettled with some heavy rain showers perhaps, which will be great for allotments and gardens – but not so good for garden parties!
Watering is a very common topic for discussion and I don't have all the answers – but I do know what works for me.
In the warm dry weather I tend to water every four days and give things a really thorough soaking. It's always better to give a good soak rather than going down the little-and-often method.
And watering well helps the roots establish and creates strong plants.
Bear in mind, though, with young plants and seedlings you will need to water more regularly in hotter weather. What I usually do is split my allotment into three and water one third each evening.
This is the best time to water to avoid scorching leaves and evaporation is almost eliminated too.
After watering for three days, I don't bother on the fourth day – instead I get the hoe moving as the weeds will also be loving the watering regime.
The allotment is now in full swing with all the beds full of flowers and veg plants. My dahlias are all in, but I have had to give up a veg bed to plant the dahlias I have grown from cuttings.
To support the dahlias I have used netting with 10cm-wide holes over the top, stretched out over six posts around the bed.
This has worked really well although I have found that using 'cheap' netting or similar does not work. This is because the plants get too heavy in the rain and break the netting.
About three years ago I bought some netting from an online company called Ropeseller, and the nets are still as good as new. Having checked, I can say Ropeseller is still there and the web address is below.
My other little task recently was getting the pumpkins planted.
Last year I took over another small bit of allotment where the previous tenant grew flowers for cutting, and I have turned this area into my pumpkin patch.
I dug three holes and mixed in well-rotted manure and planted one pumpkin plant in each of the holes.
I also dug a 'well' around each plant to act as a reservoir for watering.
The variety I am growing is Atlantic Giant. As I have mentioned before, we are having a competition at the allotment to see who can grow the heaviest pumpkin. This competition is in memory of Bob Keevil who sadly passed away last year.
Fingers crossed for a whopper!
Feeding is vitally important and often overlooked. You can get all sorts of specific feeds at the garden centre which are really good but often quite expensive.
But I use a generic liquid seaweed feed that you dilute into a watering can and you can use it to either drench the roots or as a foliar feed.
Foliar feeding is a technique of feeding plants by applying liquid fertiliser directly to the leaves.
Plants are able to absorb essential elements through their leaves, and using this method the plant can't help but take up the nutrients.
I feed roughly every seven to ten days, which seems to work for me.
In the garden at home I have started putting my stamp on it by planting some dahlias into the borders.
I have gone with a mixture and planted them in a repetitive pattern throughout the main border.
As you can see in the picture (top) the border is lovely and quite busy already, so I have not gone mad with my planting, just putting in six dahlias.
I am also excited about the fruit bushes in the garden. The berries are forming but as I don't have a clue what they are, the end result is going to be a nice surprise.
Not that I'm sure I'll get to eat any unless I get the bushes netted to stop the birds clearing the bushes of fruit.
I fear my allotment neighbour will have the last laugh after his lack of fruit on his cherry tree over the years thanks to birds!
n For netting information visit the website at https://www.ropeseller.co.uk/
Comments
To leave a comment you need to create an account. |
All comments 0