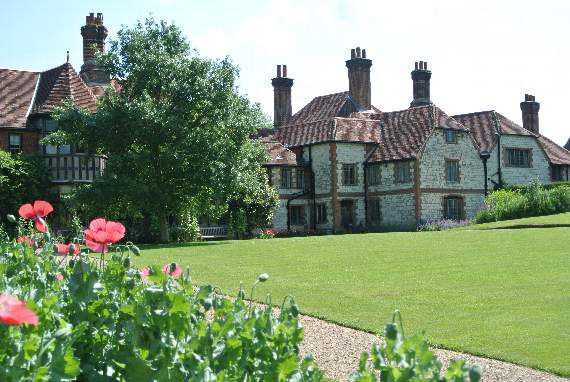 Gilbert White's house in Selborne, where Natural History Museum scientists are carrying out a 'bioblitz'
()
Subscribe newsletter
Subscribe to our email and get updates right in your inbox.
Scientists from the Natural History Museum are carrying out a 'bioblitz' in the former home of famous naturalist Gilbert White in Selborne.
The bioblitz will include the collecting of various invertebrate species, and is being carried out for the Darwin Tree of Life Project (DToL).
This latest fieldwork was initially planned for last July to coincide with the 300-year anniversary of Gilbert White's birth but was pandemic postponed.
Best known for his natural history book Natural History and Antiquities of Selborne, Gilbert White was a pioneering naturalist, ecologist and ornithologist.
Natural History Museum biodiversity training manager Stephanie Holt said: "It is incredibly exciting to be collecting specimens in the home of Gilbert White where he himself once collected.
"Our team is using particularly advanced techniques to both store and analyse the specimens, but the aim to understand the wildlife around us remains the same."
Dr Gavin Broad of the Natural History Museum added: "Like Gilbert we hope to gain a better understanding of the natural world and the plants and animals that surround us.
"By collecting these specimens we improve our knowledge of the plants and animals that surround us and we can we track changes over time and protect them for the future."
Once collected, specimens will be sent to the Natural History Museum for DNA barcoding, and voucher specimens will be incorporated into the collections.
As the database builds, the combined teams involved in the project are gaining a greater understanding of the biodiversity that surrounds us.
It is hoped this knowledge can contribute to conservation efforts that are mitigating the impacts of negative environmental change and help create a future where people and planet thrive.