Local pupils help launch national competition at Surrey school
Monday 24th October 2016 1:00 pm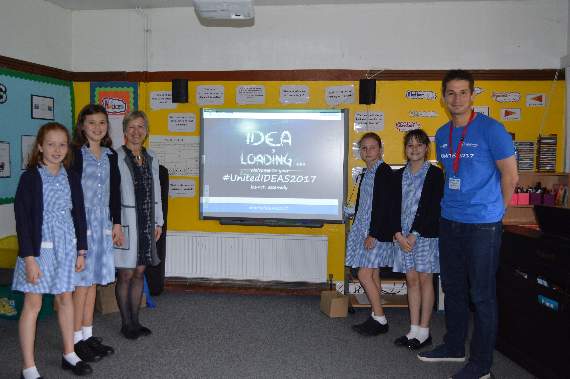 Pupils and staff from 7billionideas competition at the school's launch day
Subscribe newsletter
Subscribe to our email and get updates right in your inbox.
PUPILS at a Haslemere school have helped launch a national competition which will see primary age children come up with ideas which could change the world for the better.
It was one of the very first roadshows taking place up and down the country to kick off the competition.
Pupils were visited by staff from 7billionideas who gave a presentation on how the youngsters could use their imaginations and creativity to make a positive difference in their local and global communities.
#UnitedIDEAS2017 is being run by United Learning, the schools group which St.Ives is a part of, and 7billionideas is open to Key Stage 2 pupils (children aged 7-11) at state academies and independent schools.
St Ives head teacher Kay Goldsworthy said: "This is a great project for pupils to be involved in, promoting teamwork and challenging young minds to make a difference to the future."
St Ives Year 6 pupil Bea Plummer said: "There was lots of excitement as students throughout the year groups wanted to share ideas as to how to make the world a better place. I'm really looking forward to working with my team to develop our ideas for the future."