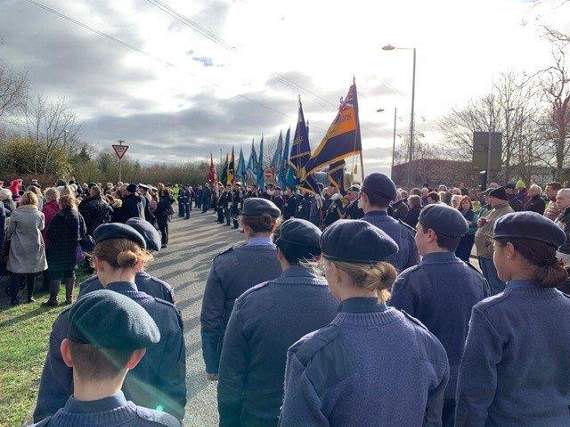 Thirteen forces-related organisations attended the service
()
Subscribe newsletter
Subscribe to our email and get updates right in your inbox.
THE FIRST service at a memorial garden in Horndean for two Australian flyers was attended by their relatives, more than 300 members of the public, and representatives from armed forces organisations and the Australian High Commission.
The dedication service signalled the opening of the garden in memory of Royal Air Force officers Edward (Ted) Wicky (22), and his 21-year old friend and navigator Oswald Mountford.
They died on the way home from a bombing raid over Germany when their plane crashed close to the junction of Five Heads Road and London Road in the early hours of February 4, 1945.
The garden near the crash site finally became a reality last October after a 14-year campaign by the residents group The Horndean Children of the 1940s.
Before the service, project spokesman Graham Parsons said: "It's been a real struggle, with lots of problems and issues along the way that needed resolving. But we are buzzing now, over the moon.
"The monument will serve as a poignant reminder of the sacrifice made by these two brave young men, and preserve an important part of the wartime history of Horndean."
Horndean East Hampshire District Council member and local historian Sara Schillemore has supported the project throughout and helped achieve the end result, a carved stone memorial set in the commemorative garden.
She said: "The service was very moving – it was a very historic moment. And we were thrilled to welcome nine relatives of the two airmen, who flew from Australia to be here for the ceremony."
Before they died in their twin-engine fighter/bomber Mosquito aircraft, the two flyers had each been awarded the Distinguished Flying Cross.
The medal was the highest gallantry medal given to flyers during the Second World War for valour, courage or devotion to duty.
Mountford and Wicky were with 464 Squadron stationed at RAF Thorney Island on the Solent and a few miles from Horndean.
These elite flyers were known as the Gestapo Hunters because of their success in the precision bombing of Gestapo buildings – raids for which the two men had been awarded their medals.