NOSTALGIA: Everyone in county played vital role in world war
Thursday 16th August 2018 2:45 pm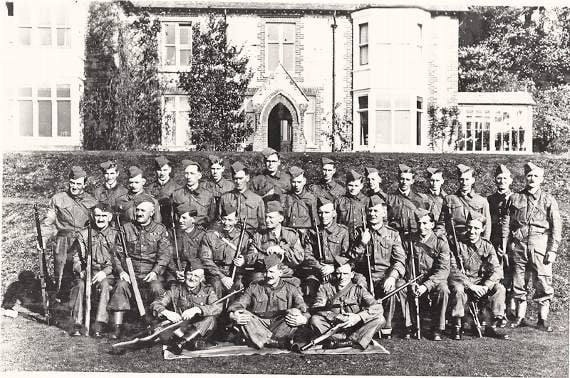 Members of East Meon Home Guard outside the Vicarage where they trained in the grounds
()
Subscribe newsletter
Subscribe to our email and get updates right in your inbox.
IN THIS centenary year of the ending of the First World War, much has been written about that conflict and its lasting effect on those who served – and those left behind.
But a new book, Hampshire at War 1939-45, sheds light on the people of the county and their contribution to the war effort, both those in uniform and civilians.
Lavishly illustrated with original photographs of the era, author Murray Rowlands has not only described the course of the war but, by using the memories of both adults and children who lived through those perilous years, he brings out the experiences of how they were involved on a day-to-day basis.
After describing Hampshire's importance through the centuries as a hub of national defence, the author traces how, in the period of the 'phoney war' children were evacuated from Portsmouth and Southampton to rural areas, such as Petersfield and Horndean, and the civilian population prepared for war.
Paddle steamers, more used to ferrying passengers across the Solent to the Isle of Wight, were pressed into service with the hundreds of small vessels which rescued much of the British Expeditionary Force from the beaches of Dunkirk.
Meanwhile, as Britain stood alone against the Nazi threat, Home Guard units were formed as a last-ditch defensive force with most small towns and villages mustering groups of men who were ineligible to be in the full-time Services but who wanted to play their part. One such group was the one at East Meon, based at Bereleigh.
One of Hampshire's vital contributions to the Battle of Britain and later engagements by its fighter aircraft was the development and building of Spitfires at Southampton but that activity and its docks made the city – and Portsmouth – vulnerable to many devastating air raids.
The role of spies and the Special Operations Executive is covered in the book, particularly the training centre at Beaulieu Abbey. Also how the Cockleshell Heroes practised in Southsea before their daring raid.
Then, how the county accommodated 50,000 Canadian volunteers who came to bolster the Allied effort.
Women who contributed in their various roles are not forgotten, from nurses and Royal Air Force control rooms to the Land Army and working in factories, pictures and stories bring their world of 70 years ago to life.
Hampshire's role in the planning of execution is covered in detail because of its prime importance in the planning at Southwick House north of Portsmouth and assembling of the invasion force, including the Mulberry Harbour.
The final chapters cover the celebrations of victory in Europe with reminiscences of both serving personnel and those who had been left behind to cope with the hardships of life without their menfolk and in circumstances vastly different from pre-war days.