NOSTALGIA: Men, women – and lions – rode on the Wall of Death
Sunday 24th June 2018 9:00 am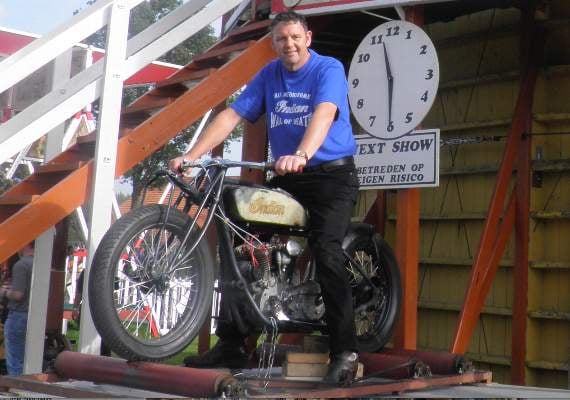 Alan Mercer on his 1927 Indian Scout motorcycle, formerly used on Wall of Death circuits
()
Subscribe newsletter
Subscribe to our email and get updates right in your inbox.
A PICTURE of a lion riding in a motorcycle sidecar on a Wall of Death is one of the most striking pictures Alan Mercer has collected.
Alan developed the book, Wildwood 38, and his interest in the skilful entertainment completely by accident.
He had been intending to buy a vintage motorbike but ended up with a box of parts which he eventually rebuilt and it was while he was exhibiting this award-winning machine he was parked next to another motorcycle, an Indian Scout, and discovered the history of the Wall of Death in which that bike played an important part.
He found out 2008 was due to be celebrated as the 50th anniversary of the fairground spectacle being introduced into Britain from the United States, where it had started in 1911 at the Coney Island amusement park in New York.
The seemingly-impossible technical feat of being able to ride a motorbike vertically around the sides of a wooden-walled cylinder thrilled audiences on both sides of the Atlantic, principally until the Second World War, both at static fair sites and travelling shows.
Alan decided to build a tribute bike, taking it to the event marking the British anniversary and asked the riders there to sign the machine's petrol tank. From then, he began to track down all the living riders he could – a task which would take him more than two years.
He even travelled abroad, including to Tenerife in the Canary Islands, where he found Tommy Messham, who had ridden on the Wall of Death, which had been part of the pre-Second World War attractions at Petersfield's Taro Fair.
In all, he traced about 2,300 men and women who had enjoyed the thrills and spills of entertaining fairground crowds but one of the first facts he discovered was that the earliest recorded walls in Britain were in 1929, a year later than originally believed.
Alan continued his travels collecting stories, visiting Canada and Australia as well as the United States, where he was luckily able to meet the family of Joe Dobish and Ruth Dare and given access to their albums of pictures, including the famous ones featuring lions.
He called his book Wildwood 38 because for many years the lion photo was mistakenly described as having been taken at Revere Beach in 1929 but, having seen the original, Alan was able to establish it was actually photographed at Wildwood, New Jersey, in 1938.
There are still about half a dozen static and touring Walls of Death in Britain, including ones erected at Goodwood's Festival of Speed and Revival events, while Alan himself takes his 1927 Indian Scout bike to various shows.
Wildwood 38 is available at One Tree Books, Lavant Street, Petersfield, where a successful launch event was held for it earlier this month.