Overlord and out: visitors to Denmead military show had eyes on the skies
Wednesday 30th May 2018 3:00 pm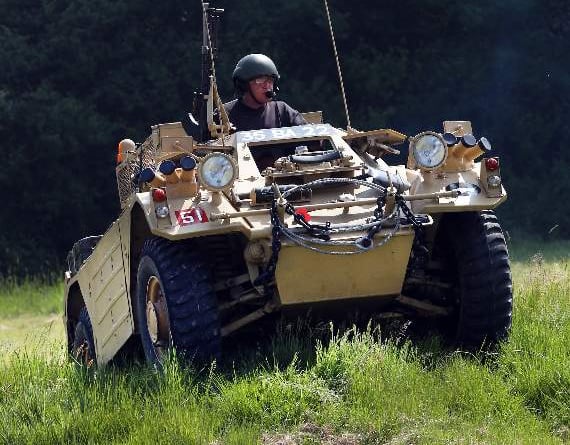 Kevin Brown with Delilah, his 1953 Daimler Ferret.
()
Subscribe newsletter
Subscribe to our email and get updates right in your inbox.
THE SAYING goes that you can't please all of the people, all of the time.
And that was especially the case on Saturday when people in Denmead were treated to the spectacular sight of a Battle of Britain airplane flying low over the village.
"We managed to get the RAF to provide a DC-3 for the occasion so we had a flypast from the Battle of Britain Memorial Flight," said John Whiting, co-organiser of the Overlord Military Show which took place all weekend off Forest Road.
"That was an amazing sight but there was a complaint about it, believe it or not. I guess you can't please everyone."
Gripes about low flying Second World War airplanes aside, both organisers and visitors to the annual military showpiece on The Lawns were thrilled with the success of this year's show.
Around 8,000 people visited the three-day event which featured a jaw-dropping array of military vehicles, stalls, re-enactments, displays and memorabilia.
The weather was also kind as spells of heavy rain fell during the evenings, with the show days being blessed with wall to wall sunshine.
This year's show, organised as ever by the Solent Overlord Military Collectors Club, also included a 1940s fashion parade and a variety of rescue demonstrations and skirmishes.
The First World War also featured heavily while the terrifying sight of a massive Russian T54 tank roaming around the fields was a sight to behold.
"We usually have a plethora of Land Rovers and Jeeps at Overlord so what we've tried to do this year was bring something different to the show," added Mr Whiting.
"So this year we got a Russian T54 to trundle around the arena. It's a big, heavy, 1950s Soviet armoured vehicle so you can imagine that was quite an impressive sight."
Charity was also a big winner at this year's show with proceeds being split between Hounds for Heroes, Homes For Veterans and the Spirit of Normandy.
And those hoping for more of the same next year will be pleased to know that Overlord will take place at the same venue in 2019.
"Generally it was a very successful show and everyone went away with a smile on their face," added Mr Whiting.
"The fact is that we try and make it bigger and better each year and make improvements to the show, so we're already looking forward to next year."