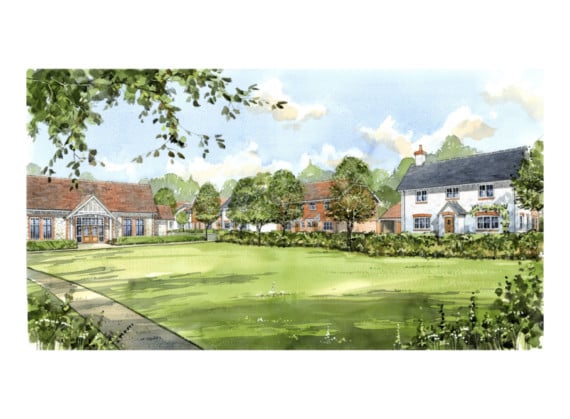 An artist's impression of the mini-estate at Stroud that will include 12 affordable homes and a village hall
Subscribe newsletter
Subscribe to our email and get updates right in your inbox.
STROUD Parish Council's chairman says the quality of residents' lives is very important as work on a mini-estate in the village picks up pace.
David McKinney says he wants to reassure residents the council is happy to mediate with developers Cala homes over any temporary issues the construction work may cause, especially along Ramsdean Road.
The road runs alongside the 1.4- hectare site and recently the work has meant there were traffic lights on it. Contractors working on the 30-home development are also parking along it, say some residents.
Cllr McKinney said: "This estate is very important to the village, as it includes 12 affordable homes for local residents and a new village hall, that should be completed by 2020.
"The plans were passed last year by South Downs National Park Authority with the full support of the village and the council.
"But it was always going to be difficult for a while, and I fully sympathise if there are any issues.
"The council is very keen that inconvenience is kept to a minimum to protect residents' quality of life. We have a good relationship with Cala Homes' site manager Paul Vincent and he is more than happy to help out if there is an issue."
Cllr McKinney is also asking for residents' patience while the initial stages of the development are completed.
He said: "Once the roads on the estate are finished, it will create more off-road parking which should make life easier."
Monthly updates on the development are on the parish council website www.stroud-pc.gov.uk and residents can email queries to Cllr McKinney on [email protected] or council clerk Elisabeth Foulston on [email protected]