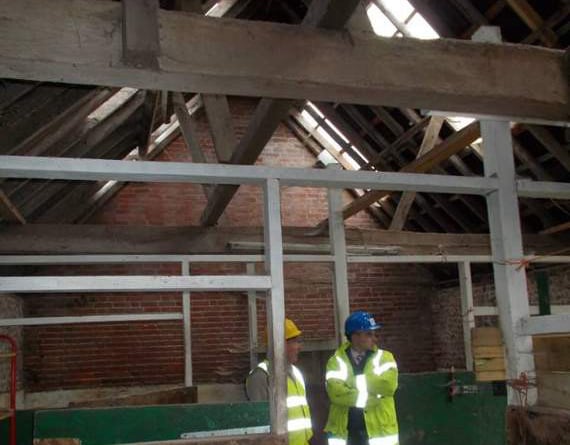 A picture of the interior of Crimea Barn, taken around four years ago, during an effort to save the L-shaped building
Subscribe newsletter
Subscribe to our email and get updates right in your inbox.
PARISH councillors will meet with a firm of architects this week in the latest stage of an exciting project to convert one of the oldest buildings in Clanfield.
Having saved Down (Crimea) Barn from destruction nearly half a decade ago, Clanfield Parish Council (CPC) is now looking at drawing up plans and funding streams as the owners of the historic structure.
Council members are due to meet with the Goddard Partnership Limited this week having appointed the Bishop's Waltham firm as project manager consultants.
The plan is to convert and split the part 19th-century building on the corner of Green Lane and Chalton Lane into a parish office and rentable office units.
Parish councillor John Bannell hopes the meeting will get things "up and running" with CPC keen to get planning permission within the next year.
He said: "We're looking at getting the design work started, getting a planning application in, and then we need to work on funding.
"There are issues that need to be looked at in depth but the plan has always been the same: the front part of the barn on the Chalton Lane we've always had that earmarked as a parish office and the rest we're looking at turning that into rentable office space because that is something that will be compatible locally."
The councillor added: "The work will depend on funding, of course.
"We have to get some large applications in for funding and we need planning permission for the project over the next 12 months so our big aim for the moment is working towards getting planning permission, but it's all falling into place.
"It's an exciting project and we as a parish council are looking forward to getting things under way."