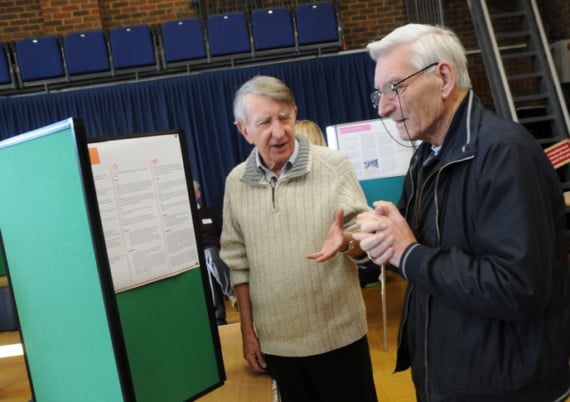 Residents view policies, ask questions and make comments during the neighbourhood plan exhibition. Picture by Katie Hill.
Subscribe newsletter
Subscribe to our email and get updates right in your inbox.
RESIDENTS who couldn't make the Liphook Local Plan exhibition are being reminded they have only until the end of the month to comment on the draft proposals.
When it is adopted, the Local Plan will set out a vision for Liphook for the coming years, including residents' views on where new houses and business units should be built.
Residents who missed the exhibition but want their views considered by the Local Plan steering group, have until Friday, March 1, to do so.
The exhibition in the Millennium Centre hosted by the steering group attracted more than 250 interested visitors, many of whom gave feedback on the draft proposals.
Steering group acting vice-chairman Chantal Foo said: "Feedback responses included several overlapping topics, which was expected because of the nature of development plans where one theme influences and impacts on another."
From the initial 'after the event' analysis by the neighbourhood plan steering group, the themes that received the most feedback were access and movement, which covered traffic issues as well as housing.
Bramshott and Liphook currently has a population of around 8,477 residents, but by 2021 it is likely there will be more than 10,000 people living there.
Chantal added: "Comments from the community are vital to enable us to move forward with the development of the neighbourhood plan."
During the exhibition on Friday and Saturday, February 15 and 16, issues such as sports and recreation, community, public services, employment, heritage and design, as well as housing and access and movement, were covered.
The initial analysis of feedback will be undertaken by the steering committee, and Local Plan consultants Feria Urbanism will advise how the feedback can be included in the review of the draft planning policies, land use analysis and land use proposals.
Once that is done, there will be a consultation later this year to give residents the opportunity to view the revised land use proposals and planning policies: South Downs National Park Authority decides applications in one third of it, and East Hampshire District Council the remainder.
For more information about the Local Plan – and to comment on the draft proposals – visit the website at www.bramshottandliphookndp.uk