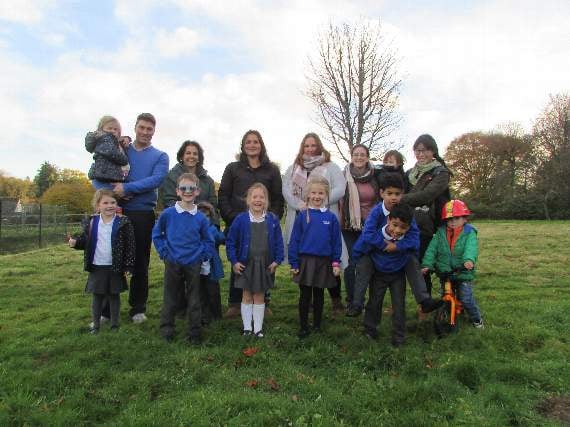 Parents and children at the proposed site of the play area by Rake Village Hall
Subscribe newsletter
Subscribe to our email and get updates right in your inbox.
A PROJECT to create an equipped play area at Rake Village Hall is uniting residents.
Mother-of-two Pai Tang-George has been working with the village hall on the plans for the past few months, and she has become a village hall committee member. The suggested site for the play area is by the tennis courts in the field by the village hall.
Pai said: "With Rake being on the West Sussex/Hampshire border it has been neglected, so there is a real need for facilities for young children.
"Having lived in Petersfield and moved to Rake nearly three years ago, there is no real sense of community within the village, especially since the village lost its convenience shop, and there is nowhere for young children and families to use.
"The issues I want to help tackle with the playground are around having a safe outdoor play area for children to use/get healthy by playing outside, an increased sense of community for villagers and decreased social isolation for parents of young children who have nowhere to go.
"We have a working party of 16 working on this, and a lot of other people support what we are doing."
Now the application has been submitted, Pai is turning her attention towards fundraising.
She said: "We need to raise around the £50,000 mark, and a big funding application will be submitted to Biffa.
"We are also looking for any wealthy benefactors who can help us and donate towards this project."
To view the plans and make comments, visit the South Downs National Park Authority's planning website at: www.southdowns.gov.uk/planning and search for SDNP/18/05370/FUL.
Anyone who would like to donate to the project should e-mail [email protected] for more details.