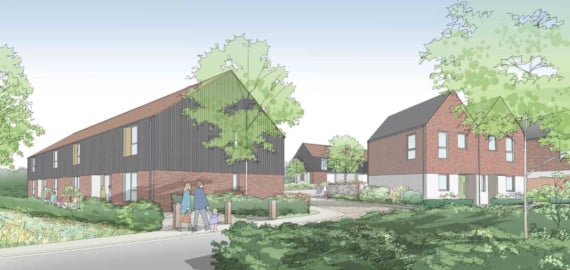 Concerns about the 'dark and drab' look of some of the proposed housing were also raised
Subscribe newsletter
Subscribe to our email and get updates right in your inbox.
CONCERNS have been raised that drainage and water issues have not been taken seriously by the would-be developer of the biggest housebuilding scheme in Liss for a generation.
People who live around Andlers Ash Road fear the development of 80 homes next to the nursery could increase the risk of flooding in the area.
Concerns about the height of the water table and surface water run-off were raised by some villagers when the Cala Homes application was debated by Liss Parish Council (LPC) last Monday.
Councillors put forward a "mountain of reasons" why the amended scheme should be refused with drainage issues being the top.
Others included the high number of proposed houses – the site was earmarked for around 70 homes in the Liss Neighbourhood Development Plan – the disregard of the settlement boundary, the style of housing proposed and poor parking layout.
Councillor Sue Halsted, chairman of the LPC Planning Committee, claimed the scheme was definitely an improvement on the previous one, but still needed more work.
She said: "There are strong doubts about the mix of homes and housing types.
"Some previous questions have been addressed successfully but some of us feel there is some way to go."
Sir John Dunt, who played a key role in the creation of the Liss Neighbourhood Development Plan, was the first to raise concerns during the meeting.
He said: "I believe Cala Homes have done a considerable amount of work but their planning application doesn't yet meet the standard required.
"The Andlers Ash development before us is the biggest single development to be proposed in Liss and we must get it right. It's important for future generations."
District councillor Mike Kendall was the first person in the audience to raise concerns about drainage and water issues in the area.
He said: "The existing drainage system is inadequate to deal with surface water run-off at present and I'm not sure the measures proposed by Cala Homes will do anything other than exacerbate the existing problem."
Another resident added: "They're trying to squeeze too many properties into one space and people aren't going to have quality houses.
"I think the idea of quality housing has gone out of the window."