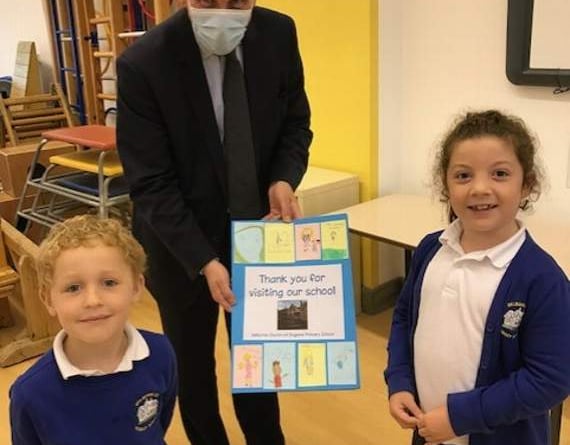 Subscribe newsletter
Subscribe to our email and get updates right in your inbox.
IT'S not every day a former secretary of state for education visits your school – and pupils at Selborne Primary certainly made the most of the chance to get to grips with their Member of Parliament.
After enjoying a tour of the school site, East Hampshire MP Damian Hinds met the children in the hall in their two separate bubbles, where he spoke about his job before being put in the hot seat for a lively question-and-answer session.
What do you want to change most in the world?
According to headteacher Claire Murphy, Mr Hinds answered this by saying sometimes it's not about what you want to change, but what you value and what you want to keep most.
What training do you need to become a MP?
Mr Hinds talked about needing GCSEs and higher qualifications and then spoke about how many different experiences people bring to the role.
Why did you want to become a MP?
Mr Hinds spoke about wanting to help people and make a difference – he indicated some people become teachers or doctors, some work for charities and that his skills didn't suit this way forward, but that being an MP meant he could make a difference to people and solve their problems.
What do you think about Hampshire's consultation to remove school crossing patrols, as we are really worried about this?
Mr Hinds thanked the children for bringing this to his attention. He said he understood their concerns about the traffic in Selborne and stressed how important safe walking to school was for children.
On his tour, Mr Hinds also heard how the children had worked during the periods of remote learning and the tools that had been used, as well as finding out how well they had returned to school.
Miss Murphy added the children spoke to him "confidently and positively" about the Seesaw internet classroom app and how this let them see and hear their teacher each day.
The visit ended with the Key Stage 2 children sharing their wonderful singing talents with Mr Hinds, outdoors, under cover with the adults sheltered by umbrellas.
The younger children also presented the MP with a thank-you card for his visit.