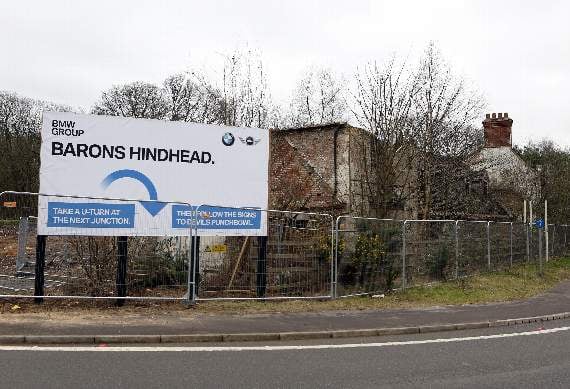 Barons of Hindhead has bought the Spaniard Inn site
()
Subscribe newsletter
Subscribe to our email and get updates right in your inbox.
THE SPANIARD Inn site is a step closer to being redeveloped.
The Spaniard Inn building has been in a derelict state for a number of years. Previously a hotel and nightclub, the building was destroyed by fire in the 1990s.
Barons held a public consultation event at the Devil's Punchbowl Hotel in Hindhead last Tuesday (March 14).
The aim of the consultation was to give the public a chance to have their say on Barons' plans to move to the Spaniard Inn site.
Barons' head of business Peter Wakefield said: "The consultation went really well and we had quite a good turnout. We had 32 response cards, and we didn't get any negative responses.
"Local people at our current site in Hindhead were quite keen we progress with a planning application, and a couple of residents by the new site at the Spaniard were very supportive as they don't want houses or a hotel on the site as they would lead to noise in the evenings.
"We've also got a couple of ideas to help traffic flow at the new site. All in all it was a really positive response.
"People liked the materials we are using which blend in with the surrounding area and the greenery.
"People also liked our proposed use of wooden fencing as opposed to metal fencing. There wasn't one negative, which was really pleasing."
Barons now needs to apply for planning permission to turn its plans for the Spaniard Inn site into reality.
Peter said: "The next stage is to formally apply for planning permission, which hopefully we will do in the next couple of weeks.
"It will take about three months to go out to tender, so if we get planning permission I imagine we would be ready to start groundwork at the site in October.
"From my experience of these things I imagine the shell will go up fairly quickly, but the fixtures and fittings will be a longer process than putting the building up.
"If anybody has any queries about our plans for the new site by the Spaniard I am more than happy to speak to people and be honest with them."
Anybody who would like to speak to Peter about the plans for the Spaniard Inn site should call Barons on 01428 605000.