Teachers get soaked at Greatham Primary School fair
Tuesday 16th June 2015 10:00 pm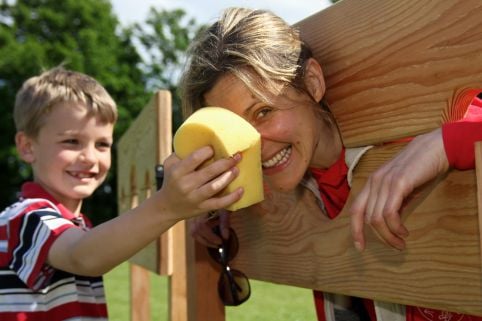 Headteacher Jo Goman in the stocks and James Anderton in action
()
Subscribe newsletter
Subscribe to our email and get updates right in your inbox.
GREATHAM Primary School's summer fair was a big success, say organisers.
The fair was organised by the Friends of Greatham School (FROGS) and raised more than £2,700.
There was plenty going on to keep visitors entertained on the day, including a barbecue, craft stalls, pony rides, bouncy castles, arena games and an army assault course.
FROGS chairwoman Jo Smith said: "We had a good turnout and perfect weather....
....Want to read the full story? Buy the June 17 edition of the Post - on sale now - or download a copy to your computer, mobile or tablet device by clicking on the 'Latest Edition' button on the top right hand corner of this page.