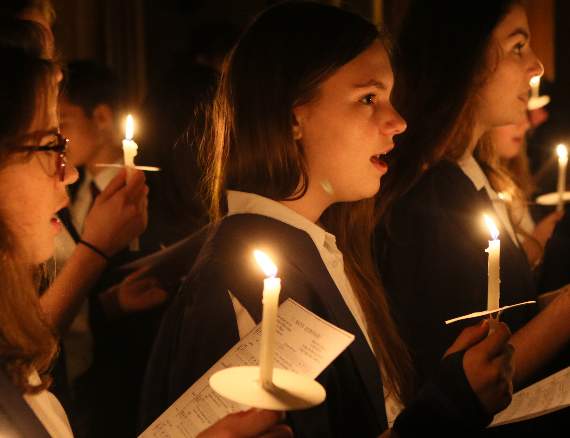 Churchers College carol service in St Peter's was just one of 20 plus carol services there this Christmas
()
Subscribe newsletter
Subscribe to our email and get updates right in your inbox.
THERE is a cast of thousands in Rev Will Hughes' very busy festive season – and he wouldn't have it any other way.
By the time Christmas week comes around, he has hosted no less than 23 festive services at St Peter's Church, opening the door to some 7,000 pupils from 14 schools, as well as Scouts, air cadets, parents and teachers.
These services, which include Carols in The Square tomorrow at 7pm, following carol singing around town with Petersfield Area Churches Together, have been a much-loved tradition for Will since he took the helm six years ago.
He loves to see the church packed with excited children dressed up for the Nativity ("there's a lot of tea towels on heads"), singing enthusiastically and playing musical instruments with proud parents watching.
"Every service is different and that's what's so wonderful," he said. There's something rather special that you have this 2,000 year old story but it's fresh and new to the children each year, with every single service treating it in a new way to make it come alive."
Each school or group organises its own service, with "gentle guidance" from Will and the team at St Peter's. This includes Will's wife Hattie who manages the church's diary and has to ensure the programme of services over six weeks runs smoothly.
The children always rise splendidly to whatever challenge they are given, Will finds, and the services bring the community together.
Langrish Primary is always the first school in the church in the second week of Advent, Petersfield Infant School holds five Christingle services and The Petersfield School pupils bring drums and other instruments.
After such a hectic fortnight, Christmas Eve and Christmas Day are relatively peaceful for Will – with just two Nativity plays and Midnight Mass on December 24, and communions at 8am and 9.30am on December 25.
Then it's back to the vicarage to start Christmas with Hattie and his four children – Beth (16), Anna (14), Ben (10) and eight-year-old Fred.