Zig zag path takes you past 'libertines' house in Selborne
Thursday 27th August 2020 1:46 pm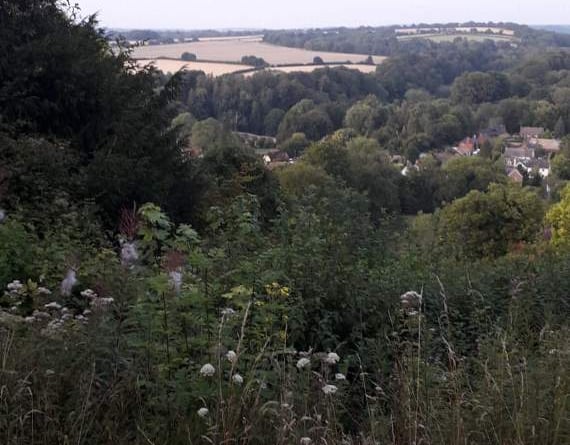 One of the view from the top of the zig zag path in Selborne
Subscribe newsletter
Subscribe to our email and get updates right in your inbox.
FORMER NHS worker JANE BARTLETT enjoys a 'zig zag' walk that took her past a libertines house in Selborne. In the past the steep walk with lovely views across the village saw her cursed by her children on a 'wishing' stone -- but fortunately she survived!Last weekend I climbed the twisting Zig Zag path in Selborne I loved as a child and my children also now enjoy it...although as youngsters they often weren't so keen!
It takes between 30 to 40 minutes, and you can park in the free car park next to the Selborne Arms – which, if you're so inclined, is handy for a refreshing after-walk Guinness.
By the car park, with nearby public loos, is the signpost to Selborne Common.
Follow this path between a field and a woodland strip, and enter the wooded hanger at the kissing gate and bear left to a map and information board about the zig zag path and common.
It was cut by a famous Victorian naturalist, the Reverend Gilbert White, and his brother John in 1753 to make it easier for them to climb the steep side of Selborne hanger.
White lived in Selborne and is still regarded, among other things, as a pioneer of British naturalists. His classic book The Natural history and antiquities of Selborne, first published 1789, is still in print today and has made Selborne famous worldwide.
Leaving the information board, the path runs between hedges blooming with abundant hawthorns, ferns and cow parsley, with butterflies fluttering above.
After nine zigs and nine zags there is an iron bench offering a welcome break, and if you have a flask or cold drink, so much the better – I had forgotten mine!
I did stop and admire the beautiful views of Selborne and the Oakhanger woods, remembering when my children were small and wanted to stand on the bench, – often my "can you please get down" resulted in a sulk!
Five more zig zags take you up to the top and another vantage point.
The scenery is magnificent and well worth the climb, and thankfully there is another bench for those who, like me, now need regular breathers.
And there is also a large Sarcen stone / boulder/ wishing stone that was placed there by Gilbert White.
It always attracted my children, as I had convinced them a silent wish made while running around it might come true.
Any sulks would quickly dissipate as they ran round it giggling to each other and glancing my way – but I remained very much alive, as I often remind them!
Turning left you descend a steep path overhung by glorious beech trees – a cool canopy from the scorching sun. On the banks, the exposed roots of these magnificent trees look like gnarled old hands.
At the bottom turn left and walk along a dusty lane back toward the car park.
One of my joys was taking my dearly-loved irascible Jack Russell terrier called Norbert for walks – and one of our favourites was the zig zag path.
Norbert, sadly now deceased, was a feisty, stubborn character, sometimes snappy and always vocal – it is fair to say he was not the most popular of dogs, but to me he was a legend – if somewhat notorious at times!
It was while out walking nearby he injured his eye chasing a rabbit into the undergrowth.
I and my teenage daughter took him straight to the vet who said he would need his eye removed.
The vet said it would take Norbert a while to recover and he would call me with an update in the morning.
We returned home to Hawkley worrying about our little terrier.
An hour later the phone rang -- it was the vet, my heart sank and I feared the worst!
But far from Norbert not surviving the surgery, he had sailed through it, and was now terrorising other pets at the surgery.
The vet tersely asked me to pick him up as soon as possible, adding – through clearly gritted teeth – that Norbert had recovered in record time.
I don't know who was happier when we arrived, dog or vet – I suspect the vet, if I'm honest!
Instead of returning to the car park at the end of the zig zag walk, you can visit Gilbert White's historic house The Wakes; the Gilbert White and Oates collections celebrate the lives of explorers of the natural world.
Walking past White's home, now the Wakes Museum, a blue plaque on Plestor House over the road caught my eye – official blue plaques commemorate a link between the location and a famous person, event or former building.
This one reads: Sullivan Black 1720-1793 Libertine, opium-eater, drunkard, duellist, gambler and wastrel lived and died here.
Initially taken aback that a clearly-dastardly Mr Black lived opposite White, author of the world famous book Natural History and Antiquities of Selborne a paragon of virtue and vicar to boot, also born in 1720 and dying in 1793 – what heated debates these so-different neighbours must have had, I thought.
But on checking when I got home (thank you, Google) I found blue plaques normally remember people with at least some positive attributes – but Black seems to have none!
On Twitter he is described as: "The author of the rediscovered Unnatural History of Selborne, and an amoral and disreputable contemporary of Rev Gilbert White."
Further research revealed that Black's marker was an 'open plaque' – these are almost identical to the blue plaques erected by English Heritage but are put up by individuals for fun!
The one on Plestor House was a play on Gilbert and Sullivan, with the surnames White and Black completing the twist!
To get to Selborne take the B3006 from the A3 north of Petersfield, and the postcode for the pub is GU34 3JR.
Comments
To leave a comment you need to create an account. |
All comments 0