Britain's Land Rover BAR Academy crowned Red Bull Youth America's Cup champions
Thursday 22nd June 2017 11:00 am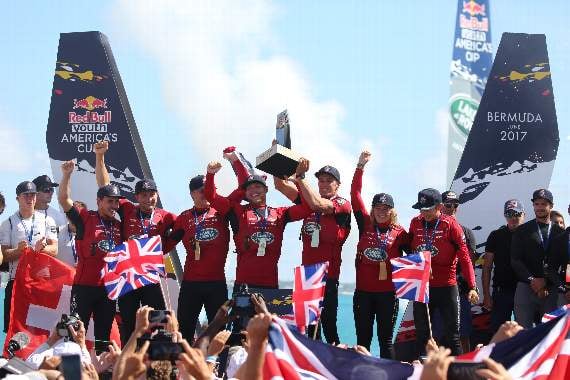 Land Rover BAR celebrate. Picture by Harry KH/Land Rover BAR.
()
Subscribe newsletter
Subscribe to our email and get updates right in your inbox.
GREAT Britain's youth America's Cup sailors from the Land Rover BAR Academy have been crowned the 2017 Red Bull Youth America's Cup Champions in Bermuda.
The British entry completed 12 races against 12 other nations on Bermuda's Great Sound to take the title – six initial qualifying races and six in the finals – and finished the event with 50 points, just two points ahead of second placed New Zealand Sailing Team (48 points) and eight points ahead of Switzerland's Team Tilt (42 points).
Land Rover BAR team principal and skipper Sir Ben Ainslie said: "We could not be prouder of the Land Rover BAR Academy winning the Red Bull Youth America's Cup.
"All their hard work, commitment and dedication over the past 18 months has really come together on the water in Bermuda.
"I have been really impressed by the team's constant on-board communication, how they kept their cool under pressure and really delivered on the boat handling during the tricky conditions."
Land Rover BAR launched the Land Rover BAR Academy in January 2016, to support talented young British sailors, and create a structured pathway into the America's Cup.
Twenty-two-year-old Neil Hunter was an initial example of success, promoted from junior to senior team, becoming not only the youngest sailor to compete in the America's Cup but the only sailor to compete in both competitions.
The British entry is also made up of some of the country's top sailing talent, aged between 19 and 24 years old, and led by skipper Rob Bunce. Twenty-three-year-old strategist, Annabel Vose, was the only female crew member to compete in the Youth Cup.
Land Rover BAR sailing team manager Jono Macbeth said: "Land Rover BAR believe in investing and mentoring the next generation and alongside our long term aim to win the America's Cup for Britain, we will continue to nurture home grown talent to ensure a lasting legacy and sustainable future for young sailors.
"We had success promoting Neil Hunter from junior to senior team and we can only look forward to more talented young sailors moving up and forward in their sailing careers with us."