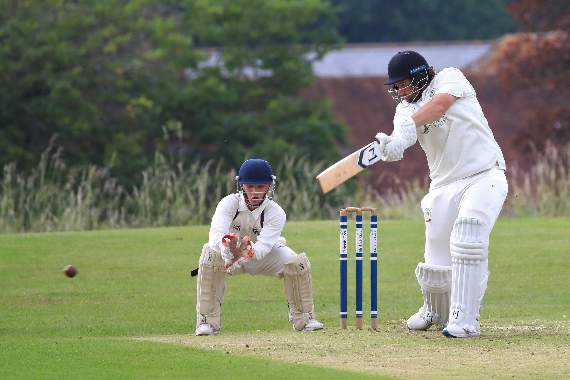 Ryan Covey
Subscribe newsletter
Subscribe to our email and get updates right in your inbox.
Liphook & Ripsley's 1st XI continued their winning momentum into the second half of the season with a nine-wicket thrashing of Southern Premier Cricket League Division 2 leaders OTs & Romsey.
In April conditions Liphook won the toss and put OTs & Romsey into bat on a green wicket. Most of their innings was played in light drizzle.
Opening bowlers Charles Janczur and Joe Randall immediately went about their usual business of perfectly tight and consistent seam bowling.
Janczur took no time to find his usual rhythm and with a ball that moved in off the pitch he took out the off-stump of opener Elliott Mitchell-Lee for a duck.
Shortly afterwards Janczur got one to move away from the right-handed captain of OTs & Romsey and he edged it to first slip – where Ryan Covey also took a very good catch low down to remove Charlie King for another duck.
OTs & Romsey's number four Joseph Vaughan dug his heels in with a few boundaries but he fell to a well set up away swinger from Joe Randall which took his edge and landed in the gloves of wicketkeeper Harry Munt.
Danger man Bothwell Chapungu took a while to get going with his usual manner of destructive hitting as he was tied down by the immaculate bowling from both Liphook openers.
Captain Sean Burton made a change and threw the ball to Suman Ganguly who used great variation to remove Chapungu as he tried one too many big shots. A simple high catch was taken by Rob Nicklin at mid-on.
It was the middle overs that proved too much for the visitors, as both Ganguly and Burton were piling on the pressure. Both players displayed huge amounts of control with their swing bowling, mopping up the middle order and tail to end with three wickets each.
Ryan Covey needed only 2.1 overs to finish things off as OTs & Romsey were all out for 82 off 28.1 overs.
The game was there for the taking and Liphook had to ensure they lost no more than one wicket to pick up the full 22 points on offer.
Usual opener Rob Nicklin switched to the middle order and Harry Munt stepped up to the challenge of the new ball, moving up one place to open with Ryan Covey.
Conditions were not in favour of the batters and that was evident as Munt fell in the fifth over without scoring, placing Liphook at two runs for one wicket.
Up to the crease stepped Suman Ganguly to join Covey, and they placed the ball into the gaps to keep the scoreboard ticking over. When the bad balls came they were put away confidently by Covey and Ganguly.
There were a number of chances for OTs & Romsey to turn things around but the visitors did not hold on to four catches and Liphook progressed nicely towards the required score.
With three boundaries each, Covey and Ganguly both played with the required patience and temperament, each showing their class by manoeuvring the ball around and chasing down the total without the loss of another wicket inside 22 overs.