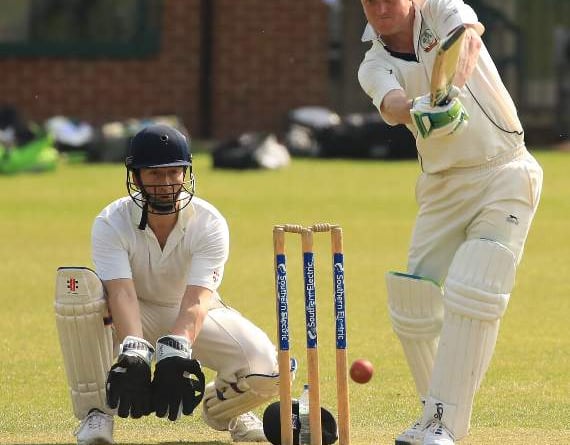 Rich Jarratt on his way to 50. Photo: Nick Cansfield
Subscribe newsletter
Subscribe to our email and get updates right in your inbox.
LIPHOOK and Ripsley's 3rd XI took on Farncombe Wanderers in the I'Anson League Division 6 last Saturday.
Farncombe won the toss and elected to bat on what was initially thought to be a good batting track, but the Liphook opening bowlers Rich Grimes (three for 22) and Rich Jarratt (three for 13) made early breakthroughs to put Farncombe Wanderers in all sorts of trouble at 19 for six.
The Liphook fielding was at its best, exemplified by a splendid catch taken by Jarratt from his own bowling. The ball came to him hard and he managed to parry it into the air, falling on to the ground and performing a double somersault before miraculously reaching out and grabbing the ball as it came down.
Lee Gregory (17) and Ian Laws (13) tried to get Farncombe back into the game, but they were out in consecutive overs leaving Farncombe reeling on 41 for eight.
Another brief partnership from Simon Russ (10) and Will Baugniet (16 not out) took Farncombe to what had earlier looked like an unlikely score of 71, but it never looked as though it was going to be anywhere near enough to challenge the Liphook batsmen.
John Strong (three for 21) and Matt Cansfield (one for 13) were the other Liphook wicket takers.
Farncombe's Gregory and Andy Watkins quickly took the wickets of Mick Poore (three) and Mark Horn (one) to give Liphook and Ripsley a scare, but Strong (13 not out) held up his end while watching a blistering display of offensive batting from Liphook's man of the match Jarratt, who blazed his way to an unbeaten 50 from 38 deliveries.
Liphook's eight-wicket victory moved them higher in the I'Anson Division 6 league table and personal glory was to be found for Grimes, who now sits second in the I'Anson bowling charts for the 2021 season with 14 wickets at an average of less than six, and for Jarratt, who is fourth in the batting list with 167 runs at an average of more than 55.