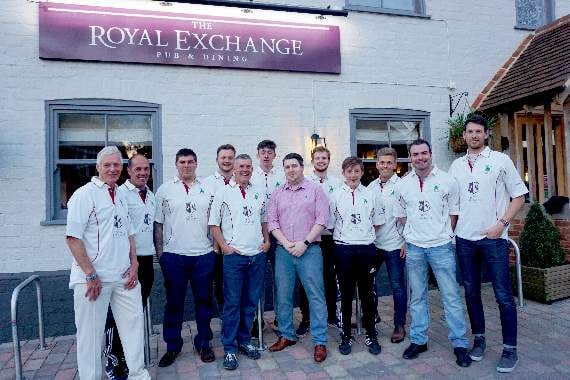 Headley players and officials at The Royal Exchange after Saturday's victory
()
Subscribe newsletter
Subscribe to our email and get updates right in your inbox.
HEADLEY Cricket Club had a good start to their season on Saturday with the second team winning their opening league game against Milford.
Headley's players were wearing new shirts that have been sponsored by The Royal Exchange at Lindford. Following the game on Saturday, players and officials from the club went to the Royal Exchange to thank their manager, Alex Fellows-Freeman.
Club chairman Richard Jackson said: "It is vital for a club like ours to engage with our local community and we are thrilled that a business like The Royal Exchange has decided to support us in this way.
"It will be great for all our men's teams to be sporting uniform kit on a Saturday afternoon throughout the summer.
"The second team players certainly wore their new shirts with pride during the game."
The men's first team has a new captain this season, as long standing member George Ellis takes over the reins of the team following some time studying overseas.
George said: "We want to play cricket that will entertain supporters and players alike; however, we cherish the values of cricket at Headley and while we are on the field of play, we will try to perform our best, but will always respect our opponents and the match officials.
"This is something that has always been part of our club and will continue during my time as first team captain and it will also be reflected in our other two men's teams, our women's team and our junior section."