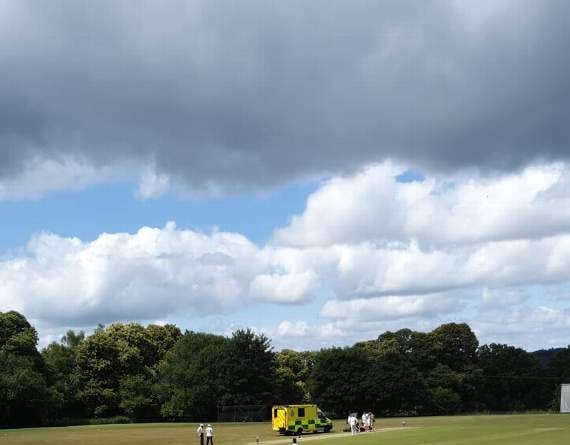 An ambulance arrived at Ripsley Park on Saturday after South Wilts' Josh Croom was struck on the head
Subscribe newsletter
Subscribe to our email and get updates right in your inbox.
THE DANGERS of cricket were in evidence at Ripsley Park on Saturday, when South Wilts bowler Josh Croom was struck on the head.
Liphook were hosting South Wilts' second team, and Croom was struck on the head by a ball hit by Liphook batsman Chris Martin.
Thankfully, Croom has now left hospital.
Martin said: "Firstly, it is great news and a huge relief that Josh is well and has left hospital with only a few stitches and a sore head.
"We only made it to the third over of the game, which was Josh's second over.
"I was on strike, Josh bowled a foot no ball which resulted in a free hit being bowled the next ball.
"The thought ran through my mind of playing a ramp shot as Josh was bowling left-arm over and with decent pace, however, I decided to use my feet to attack. Josh bowled a low full toss which I managed to connect with very well, unfortunately this was straight back at Josh and struck him in the head.
"It was lucky that Claire Harvey was on hand to manage the first aid and tend to Josh before the ambulance arrived, she was very astute and she is a credit to the club. The ambulance then arrived and took over and after initial investigations they took Josh to Queen Alexandra Hospital.
"The umpires and captains had a conversation and the result was the game was abandoned.
"The main result is Josh was able to walk away without serious injury."