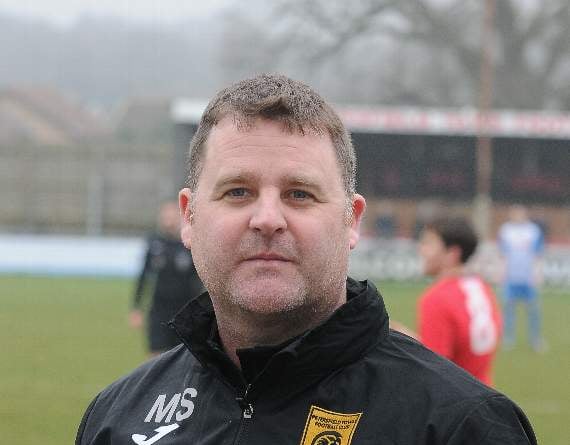 Petersfield Town manager Mark Summerhill understands the decision to postpone matches
Subscribe newsletter
Subscribe to our email and get updates right in your inbox.
SPORTS leagues across East Hampshire have shut down as a result of the coronavirus.
The Sydenhams Wessex Football League met on Monday evening and decided to postpone upcoming fixtures.
Petersfield Town manager Mark Summerhill fully understood the decision.
He said: "The government is advising against non-essential travel and social contact, so I understand the decision.
"I don't think training is even the right thing to do. I've already sent a note to the players and staff saying training is off this week. The professional clubs aren't training either.
"It's limbo time now. We've got a duty of care for everyone at the club.
"We've got to do what's right for people's health. These are unprecedented times.
"The government have said people can exercise on their own, so I've told the players that. I'll still go out for walks."
Summerhill admitted he is worried about the financial impact on the club.
He said: "We've cancelled our training venue, although luckily we were already up to date with the payments.
"These could be tough times financially for the club, but hopefully we'll come through it. We still have rent to pay, but luckily we are on good terms with our local authorities.
"As soon as the guidance changes from the government and we are allowed to return to training we might put on open training sessions for people.
"As much as we love the football club though, we've got to realise there are people up and down the country who are having a tough time."
Horndean manager Michael Birmingham also fully supported the Wessex League's decision to postpone matches.
"It had to be done," he said. "At our level a lot of volunteers at clubs are elderly, who are the most at-risk group.
"It's a no-brainer. It only takes one person to have it. The season should be finished now."
The Hampshire Premier Football League and Wyvern Combination Football League have also postponed matches.
Petersfield Rugby Club are affected by the coronavirus, as the Rugby Football Union has announced all club training, league and cup matches are suspended until April 14.
And Hampshire Hockey have announced the suspension of all matches with immediate effect. As well as cancelling matches, Petersfield Hockey Club have also cancelled club training, junior events and other club events.