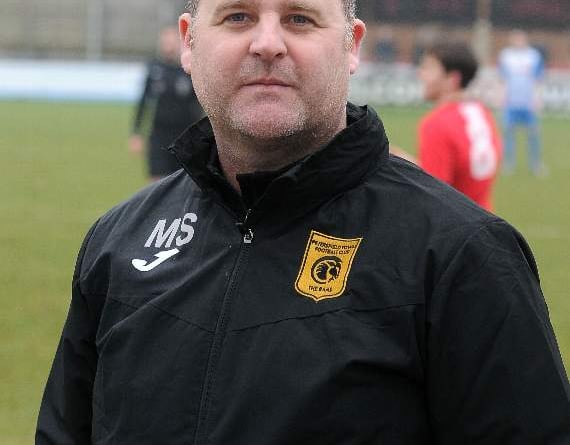 Subscribe newsletter
Subscribe to our email and get updates right in your inbox.
PETERSFIELD Town manager Mark Summerhill didn't hold back as he accused some of his players of downing tools after they were well beaten by New Milton Town on Saturday.
The Rams fell to a 4-1 defeat at Love Lane in the Wessex League Division One fixture.
A disastrous start paved the way for what was to follow, with New Milton taking the lead in the first minute.
"It was a very poor performance," said the Rams boss.
"Some of our players downed tools. Confidence is very low at the moment, and it was a very disappointing performance.
"In the first minute we didn't deal with a ball in behind. Our centre-halves didn't head it and our keeper didn't claim it.
"Rich Covey reacted late and put it in his own net.
"The second goal was very similar to the first. We didn't deal with a direct ball and were 2-0 down and had a mountain to climb. It was atrocious.
"It was two direct balls played into our box which we didn't deal with. I expect our centre-halves or keeper to dominate those situations.
"New Milton beat us 4-1, but we gifted them their first two goals with calamitous, schoolboy defending. We regrouped at half time, but a minute later we were 3-0 down.
"The lads didn't work hard enough. We're waiting for a mistake and waiting for something to go wrong."
Summerhill has called for his side to go back to basics in the search for better results.
"We need to be hard to beat for the next few weeks," said the Rams boss. "The lads need to show more character than they did on Saturday. We have to toughen up and be resilient.
"We have been here before and prefer to have these problems in August and not in November or December."
Summerhill has been busy adding to his squad, with two additions in the past week and another set to follow – although absences are continuing to hit the Rams hard.
"We lost Kieran Alcock on Saturday morning as he tested positive for Covid," said the Rams boss. "We then lost Charlie Merritt to an impact injury after 15 minutes. Hopefully he'll be back on Saturday.
"We've got Harry Gregory back from Clanfield – he gives us pace out wide or up front.
"We've brought in Jordan Sullivan for two weeks to cover at centre-half, and he played on Saturday as we only had one other fit centre-half. Jordan last played for us at Clapton in the FA Vase last year. It was asking a lot to play a Wessex League game right away.
"Reece Colbourne has agreed to join from Infinity – we're just waiting for league confirmation. He's played for Alton and Portchester and will hopefully be available on Saturday.
"We needed another centre-half, and Reece will fix that hole. We need shoring up a bit."
Petersfield did pick up their first three points of the season last Tuesday night, with a 2-0 win against Fleet Spurs.
And Summerhill was pleased with his side's efforts.
"Tuesday night was a great performance," he said. "We should have been 4-0 up at half time. It could also have been three or four in the second half.
"We took the game to Fleet and played very well. It was a good display under the lights.
"It was chalk and cheese from Tuesday to Saturday."
The Rams are back in league action at Laverstock and Ford on Saturday, and Summerhill is expecting a positive reaction to the New Milton loss.
"Laverstock have had an identical start to us, so it's a great opportunity," said the Rams boss.
"We've got three points from four league games. If we win at Laverstock that's six points and we're above a point a game."