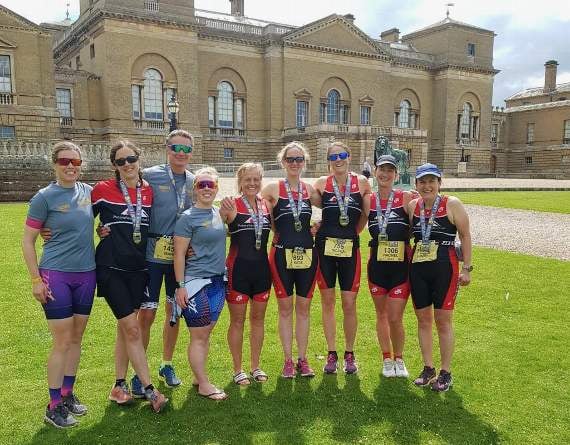 Subscribe newsletter
Subscribe to our email and get updates right in your inbox.
A GROUP of 12 Petersfield Triathlon Club athletes travelled to north Norfolk to compete in the Outlaw Half Holkham on July 4.
This event, taking place in and around the stunning setting of the Holkham Estate in Norfolk, consists of an endurance triathlon, which sees participants complete a total of 70.3 miles, comprising a 1.2-mile swim, a bike course of 56 miles and a half marathon (13.1 miles) to finish.
Starting off with a swim in the lake was quite a challenge in itself, with murky water, weed and duck muck to contend with.
The bike leg followed a delightful route around the Norfolk lanes, passing the royal residence of Sandringham on the way.
The event was finished off with the run, which consisted of three 7km loops of the Holkham estate.
Each loop started with an uphill slog to the obelisk, continuing on gravel and farm tracks back round to the crowds in front of Holkham Hall.
Tom Adams (M30-34) was the first Petersfield Triathlon Club member home, in four hours 48 minutes 40 seconds, and Georgie Freeman (F25-29) was their first woman to finish, in 5:17:50. Mark Poole (M50-54) completed the event in 5:21:25, followed by Kim King (F55-59) in 5:57:46.
Nicola Jordan (F45-49) was next home in 6:04:44, closely followed by Kate Parker (F40-44) in a time of 6:07:25. Rachel Stock (F40-44) was next, in 6:37:10, with Kate Smith (F45-49) not far behind in 6:39:12.
The next two Petersfield women home, Jodi Crawford (F40-45) and Ginny Hutchins (F50-54), both finished in under seven hours, crossing the line in 6:53:21 and 6:55:45 respectively.
Nicola Plewes (F50-54), who put in some excellent times for the swimming leg and cycling section, was determined not to give up despite experiencing breathing difficulties during the run, and crossed the line after a gruelling 7:55:40. Rowena Rogers (F45-49) was prevented from completing the event due to a hip injury which meant she was unable to run. Not wanting to miss out on the event for which she had been training, Rowena completed the swimming and cycling sections before withdrawing.
The Outlaw Half Holkham was not the only event in which Petersfield members took part.
Also on July 4, Richard Roberts (M55-59) took part in the standard distance triathlon (1500m swim and 40km bike ride before finishing with a 10km run) at picturesque Swanage.
This event started with a swim across Swanage Bay followed by a long climb on the bike out of Swanage past Corfe Castle, and finished with the running leg, which also had a steep uphill section on to Ballard Down.
Richard's 3:06:32, which saw him finish fifth in his age category, was a great result for this challenging event.
Not to be outdone by all the youngsters in the club, Rose Beddington (F Vet.70) complemented her triathlon training by taking part in the RunWisborough 5km run.
Despite finding the course a bit muddy, Rose finished in a superb 30:33, winning her age category in the process.