Petersfield under-14 Pirates complete the double with Ash Trophy victory
Thursday 11th May 2017 10:00 am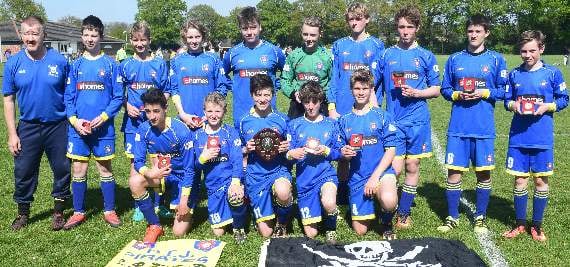 Petersfield under-14 Pirates won the Ash Trophy on Sunday to complete the double
()
Subscribe newsletter
Subscribe to our email and get updates right in your inbox.
Petersfield under-14 Pirates 1 Headley under-14 Harlequins 0: PETERSFIELD Town Juniors under-14 Pirates won the North East Hampshire Youth League under-14 Ash Trophy on Sunday to finish their season on a high note.
The first half started with a flurry of Petersfield attacks but the Headley defence protected their goal effectively.
As the half progressed there were a number of chances for both teams, with the passing game of the Pirates coming to the fore. Headley spent much of the half in dogged defence and used the counter attack to threaten this dominance.
The second half followed the pattern of the first, with the Petersfield defence needing to be alert to the counter attack as their forwards pressed the Headley defence, firing in short and long range shots. The Headley goalkeeper pulled off a number of spectacular saves to frustrate Petersfield's attacking force and force extra time.
The first period of extra time saw both teams threaten, but again it was the excellent goalkeeping from both sides that kept the match tight.
It was early in the second period of extra time that the deadlock was finally broken,
The tenacity of the Pirates was finally rewarded with Tom Chads breaking through the Headley defence to chip the goalkeeper for a well-deserved goal. The Pirates had to face late pressure from a Headley team determined to get back into the game, but their good organisation and team play prevailed and the team celebrated when the final whistle was blown.