Charity the winner as Petersfield beat Royal Navy President's XV
Friday 20th December 2019 10:00 am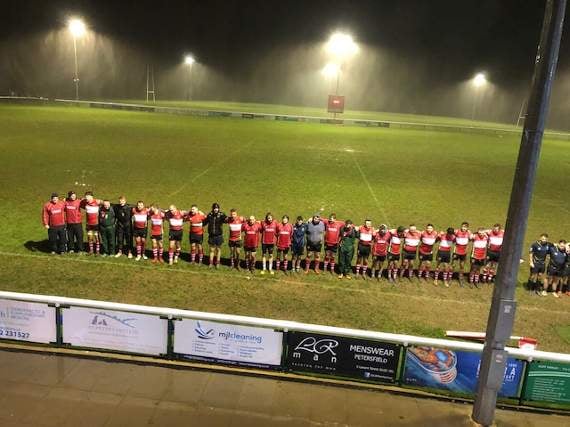 Petersfield (red shirts) beat the Royal Navy President's XV 10-7
()
Subscribe newsletter
Subscribe to our email and get updates right in your inbox.
Petersfield 10 Royal Navy President's XV 7: A PETERSFIELD senior squad recorded a win against the Royal Navy President's XV in this now traditional charity match-up, but the real winner was charity thanks to the generosity of supporters.
In difficult conditions, a strong Petersfield squad achieved a memorable victory against their opponents.
The match, truncated to save the players from drowning and the pitch from damage, finished 10-7, with Field scoring two unconverted tries to the Navy's converted try.
Almost as brave as the players in weathering the wintry conditions were the valiant supporters who watched on and, most importantly, donated to the three charities for whom the match was played.
Ahead of the event, the crowds were entertained by The Petersfield School Brass Band ensemble.
The plucky youngsters also provided a stirring rendition of the National Anthem prior to kick-off. While the band played on, the clubhouse served supper to more than 100 hungry souls, with money raised being put towards the nominated charities.
By the end of the evening, the event had raised the impressive sum of £2,700.
Petersfield Mayor Lesley Farrow was over the moon with the £1,700 raised for the Mayor's charities – £1,200 to the Rosemary Foundation and £500 to the Salvation Army.
The remaining £1,000 was donated to the Royal Navy and Royal Marines Charity.
Petersfield Rugby Club chairman Stuart Barden was fulsome in his thanks to Milkwood Care for their continuing support of the event, The Petersfield School Brass Band for their efforts in appalling conditions, the rugby club's kitchen team who provided yet another fabulous meal and, last but by no means least, the two teams who braved the deluge to provide the entertainment for the event.