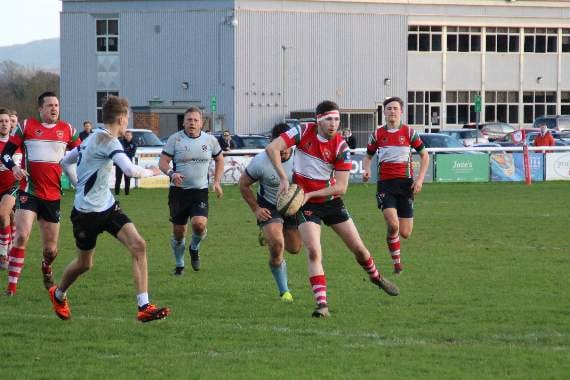 Will Mathews runs with the ball for Petersfield during their 55-12 win against Fordingbridge earlier this month
()
Subscribe newsletter
Subscribe to our email and get updates right in your inbox.
IN A repeat of the reverse leg of this fixture, Petersfield's first team match against near neighbours Havant's second team was played out on a Friday night under the floodlights, this time on Havant's plastic pitch at Hooks Lane.
With Storm Dennis gathering itself for a mighty blow over the weekend, this was something of a bonus as the two sides were provided with stable ground conditions on which to ply their trade.
Field's coaching team knew their charges would need to be on their mettle if they were to return with a victory.
Petersfield opened the scoring on 15 minutes and took the lead with an unconverted try, followed by a penalty try just before the end of the first quarter.
Havant fought back and halfway through the second quarter took the lead for the only time in the match courtesy of converting two of their tries. This was to be a shortlived revival, however, as Field struck within minutes of Havant's second try to regain the lead. In a match of tricky kicking for Field, the extras went begging but the visitors went in at the break 17-14 ahead.
The visitors knocked over a penalty within two minutes of the restart to go 20-14 ahead.
Field kept the scoreboard ticking with a further two tries, one converted, to extend their lead to 18 points.
Havant were not done, scoring yet another converted try with less than five minutes to go. However, any hope of bonus points for the home side were shut down emphatically as, with the clock in the red, Field crossed the whitewash for the sixth time.
Field's weekend went from good with their 14th bonus point win of the season, to better, as news drifted in on Saturday afternoon that main title challengers Alton had lost 18-7 at Fordingbridge, to best, as Hampshire have asked for four Field players to join their squad for a level 9/10 match against Sussex on March 6.
Head coach Jason Ford said: "To a man we stepped up and gave Havant a good game. We were accurate in what we did and showed continuity despite a recent dip in performance against Fordingbridge. Havant always looked threatening but also showed signs of a second team in that they probably regularly have changes in personnel each week.
"Our boys are showing good fitness and are showing a desire to succeed. The work the strength and conditioning team are putting in is starting to show dividends and it's great we can turn to them when the weather means we can't train on the paddock.
"We still have tough games to come and as a collective we are still taking each game as it comes. There is a ban in the squad on the P word (promotion). We have to concentrate on the now and look at the bigger picture should it come to fruition."
Next up for Field is Saturday's league and cup double-header at home to Sandown and Shanklin.
The Isle of Wight side haven't travelled well this season, but their last three away defeats have been by tight margins, so Field know they will have to be at their best to prevent the free-scoring islanders from turning them over.