Swieton and Ireland claim honours at annual junior angling open
Monday 30th August 2021 9:00 am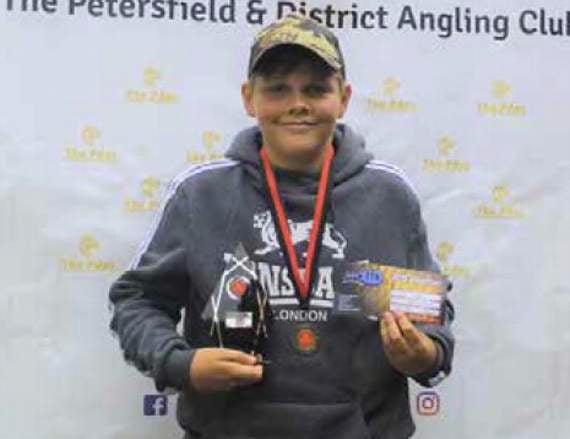 Petersfield Angling Club junior open Section B winner Arthur Ireland
()
Subscribe newsletter
Subscribe to our email and get updates right in your inbox.
AFTER the success of last year's event, there were high hopes for Petersfield Angling Club's junior open.
The event took place at Nyewood ponds, with only a total of nine anglers fishing.
The weather conditions were ideal, although the young anglers had their skills tested with some spells when it was hard to tempt bites. Some of the anglers targeted the bigger residents at Nyewood ponds to add to their weights.
The anglers were divided into two age sections, Section A for those aged between eight and 12, and Section B for those aged between 13 and 16.
Alfie Swieton (Feltham and Twickenham) had a slow start, but then targeted larger fish and that paid off with him taking top spot in Section A with a final total of 79lb 3oz.
Archie Mann (Portsmouth) was second with a final total of 21lb 1oz and Cody Hughes (Petworth & Bognor) was third with 11lb 6oz.
Arthur Ireland (Petersfield) started well and switched methods frequently to gain bites and finish in top spot in section B with a final total of 31lb 8oz.
Freddie Coulson (Petersfield) was second with 28lb 13oz and Lewis Moore (Gosport) was third with 16lb 13oz.
Nathaniel Laskowski (Petersfield) won the top Silverfish Award.
Petersfield Angling Club members have taken part in a number of senior matches.
In the drawn pairs match at Billhook, Kris Collins and Kevin Gee were first with a final total of 78lb 10oz.
Tony Bolwell and John Clarke were second with a final total of 57lb 15oz and Phil Sims and Kevin Pierson were third with 52lbs 3oz.
In the night match at Harting Combe, John Clarke ws first with a final total of 45lbs, 05ozs.
Peter Jones was second with 36lb 7oz and Kris Collins was third with 23lb 4oz.