Bronze Age round house found as work on new estate in Petersfield gets underway
Wednesday 13th September 2017 9:00 am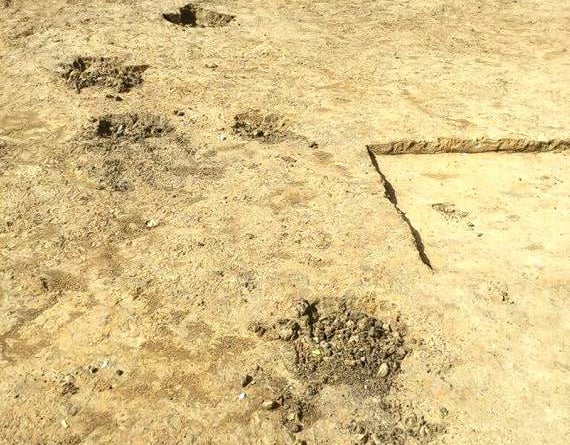 Post holes of a Bronze or Iron Age roundhouse found on fields off The Causeway
()
Subscribe newsletter
Subscribe to our email and get updates right in your inbox.
A SITE survey carried out before work begins on building 200 homes in Petersfield has uncovered the remains of a Bronze Age roundhouse which could be more than 2,550 years old.
The post holes were unearthed by experts from London-based LP Archaeology, who were surveying the site before developers Barratt and David Wilson Homes began work on the estate.
The exciting discovery, found on fields off The Causeway, could help solve the mystery of the Bronze Age burial mounds on Petersfield Heath.
For the past three years experts and volunteers from the Petersfield Museum-run People of the Heath project have been excavating Bronze Age burial mounds on the Heath – this era began about 2,100BC and ended around 650BC.
They have found clay burial urns, a sharpening stone, ashes and other Bronze Age remains but the excavations of the burial mound cemetery, one of the largest in both this country and Europe outside of the area around Stonehenge, haven't uncovered any sign of humans living in the area.
Liss archaeologist and People of the Heath co-ordinator George Anelay said: "Right here and right along the Meon Valley we haven't found any sign of Bronze Age settlements.
"The dead don't bury themselves." He also said there must have been settlements in the area, and this find, depending on which part of the Bronze Age it dates from, could provide a clue to where people were living at the time.
The roundhouse would have sat on high ground, overlooking the Heath, and could have been part of a larger settlement.
The developers say all necessary surveys will be carried out on the site, and this statement is supported by Hampshire County Council's chief archaeologist David Hopkins.
In a Facebook post he said: "An evaluation recorded the remains of a timber roundhouse dating from the Late Bronze Age, or early Iron Age, around 800BC.
"A number of post holes were exposed.
"Normally we would wait for the end of the evaluation process before embarking on further work.
"However, the developers were keen to get a handle on the extent of the archaeology they are dealing with and so the archaeologists exposed the whole of the house structure."
An on site spokesman for the developers said the discovery was on the edge of the site and wouldn't hold building work up, and it was still expected the site's show homes would be open by Christmas.