Children couldn't resist rope-swing -- while friendly police say 'leave dog at home'
Friday 29th May 2020 10:21 am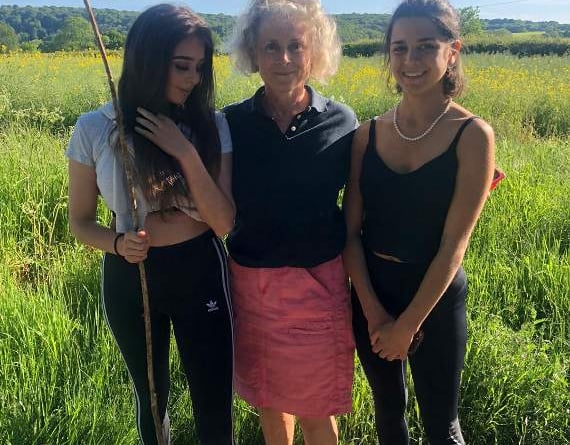 Jane Bartletts sister Sophie and her daughters enjoyed their first walk together in weeks
Subscribe newsletter
Subscribe to our email and get updates right in your inbox.
Now the lockdown has been relaxed, retired NHS worker Jane Bartlett grabbed the chance for a socially-distant walk with her sister and nieces. For their first walk together in weeks, they chose an old favourite at Selborne; they walked it as children, with their children, and your children might enjoy it, too!
Now lockdown is relaxed, I took the first opportunity to meet my sister Sophie and my two lovely nieces for a socially-distant walk in Selborne.
Petersfield, where I live, is just eight miles from Selborne. Go along the A3 towards London, then at Hambarn roundabout turn left on to the B3306, up Empshott Hill and on into Selborne .
We met at the National Trust free car park behind the Selborne Arms pub.
It was so very good to see them all and catch up on their news face to face, rather than by webchat facetime.
My nieces came home from uni at the start of lockdown – it's interrupted their studies and separated them from friends.
Anna is in her final year, and her younger sister Emily is in her second year doing exams online. It is a very difficult and uncertain time, and I worry about their future – but I am full of admiration with how they are coping.
Together, but socially distant apart, we set out on the 2½-mile circular walk – with its woodland, meadows, large ponds and streams, it's perfect for children.
Turning left from the car park into the High Street, we passed what had once been the old village shop, but now sadly closed.
Selborne is just three miles from where I grew up in Hawkley, and to me, my brothers and sisters, the shop was a favourite destination – it had sweets...
Seeing it started Sophie and I reminiscing about the good old days, and Bubbles the eagle-eyed shop owner. Then horrified we laughed – that was 45 years ago!
Then it was over the road and down Huckers Lane, past a field of lambs, and another field with a chestnut Shetland pony by a shady hedge flicking flies away with his long tail.
Buttercups, cow parsley, nettles, red campion and dock leaves crowded the lane's banks, and the hedges were lush green.
Chatting away we went through the gate at the lane's end into a cool wood, with its beautiful trees, wild flowers and garlic.
Along the path with the warm sun shining through the shady trees, is an amazing huge tree with an ageing iron bench embedded in its enormous trunk and roots.
The tree used to have a rope swing out over a river – it was high, fraught with danger, and irresistible to my boys, my daughter, and Sophie's girls – they often fell off it, and many tears were shed there!
Then comes Dorton Wood, its magnificent beeches like giant green leaf umbrellas allowing patchy, flickering sunlight through. It really is a magical place.
Passing other walkers, some responded to our friendly hellos, others looked away and didn't reply. We had to wonder why – such a lovely day, why wouldn't you say hello?
Through a gate and a field was Priory Farm; a kissing gate into another field with some woods, then over a stile into a large field with three ponds, ducks, moorhens, geese, a heron – and a few highland cattle, some grazing, others lying down... sunbathing perhaps.
Across the field the lovely wooded path led to a stream – over the wooden bridge is Church Meadow, sloping up to St Mary's Church in Selborne, where Gilbert White's tomb lies.
He was a pioneer naturalist who lived all his life in the village, and his classic book The Natural History and Antiquities of Selborne of 1789 made the village famous worldwide.
In the sun the plestor in front of the church looked glorious. A plestor was an open space for fairs or markets in the middle ages; many later became village greens – and Selborne's is one of just a few that kept the name.
Past the Gilbert White Museum in the High Street was the car park, and our cars – and miserable goodbyes without hugs and kisses.
While walking back to the car park after my walk in Selborne, a police car went by, reminding me of a chat I had with police about my dog when my daughter was young.
My Jack Russell Norbert, now sadly deceased, was very loyal and protective of me and my daughter and we loved him dearly.
My son's feelings towards him were a bit more ambivalent, however!
And, if truth be told, he wasn't liked by many of my family, or my neighbours in Hawkley – he was forever getting into scrapes!
But from an early age my daughter loved walking him, and by the time she was 11 years old she would take him out for walks around Hawkley whenever she could.
However, friends and family felt this might be risky as daughter and dog often walked empty lanes, or lonely hills and woods, and despite Norbert's fierce reputation, they worried about her safety.
I thought the sensible thing to do was to ask the police for advice, so I rang Petersfield police station and spoke to a friendly officer.
I explained the situation and asked what he thought.
"What breed of dog is this young girl taking for walks, and what is its nature? Is it a friendly animal?" he asked.
I proudly replied: "He is a Jack Russell called Norbert" – and then, not quite so proudly, I recounted some stories about him, such as going for other dogs he met on what he regarded as 'his' patch – which was everywhere and anywhere he went!
Even so, I thought the officer would agree it was a good idea my daughter walking with such a protective friend.
There was a long silence – I could almost hear him counting to ten – then a deep in-drawn breath, and a sigh.
Then he calmly said: "Well, madam, I would strongly recommend your daughter leaves the dog at home and walks alone – she will probably be much safer as she will certainly get into less trouble!
"Jack Russells, with their aggression towards other animals and dogs and their chasing instinct cause us more problems than people in rural areas."
It was with burning cheeks I agreed it might be safer for others if Norbert was left at home when she went exploring. He had to wait a few years to go out with her again.
WHILE out on my walk with my sister Sophie and her daughters, we passed huge banks of heady wild garlic.
Sophie mentioned she had just made a fantastic pesto from garlic leaves they had picked on another walk.
They freeze some in jars, and keep one in the fridge, adding some olive oil to seal it, as once opened it keeps for only a short while.
And she had a jar in her car for me. It needed to be used while it was fresh, and they couldn't eat it fast enough, she laughed!
I was very grateful – if it tasted half as good as the wild garlic smelt, it would be wonderful.
Back home, I made mushroom, ham and pea risotto with the pesto.
And it was mouthwatering, absolutely delicious, garlicky without being overpowering.
I phoned Sophie to congratulate her, and she kindly told me how to make it – I'm making the next batch!
So, blend garlic leaves with a handful of pine nuts or walnuts or almonds, add olive oil, grated parmesan cheese, lemon juice, salt, pepper and whizz it up.
The amounts can be altered to suit – like most foraging dishes, there is no hard and fast recipe!
Comments
To leave a comment you need to create an account. |
All comments 0