MP Damian Hinds: If you don't stand up to bullies, they do it again
Sunday 6th March 2022 7:00 am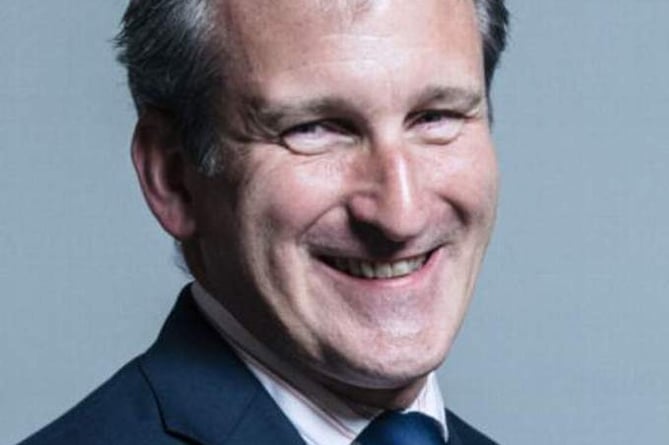 East Hampshire MP Damian Hinds
()
Subscribe newsletter
Subscribe to our email and get updates right in your inbox.
THESE are dark days for Europe, for peace and stability, for the international rules-based order. Most of all they are dark days for the people of Ukraine.
How those people have responded has been truly remarkable. In the face of a mighty and ruthless advancing army, they have found an extraordinary depth of resilience – to the surprise, it seems, even of Vladimir Putin.
To his surprise also – and indeed the surprise of many more – has been the extent and commonality of response from the international community. We have never seen this degree of co-ordinated action before.
The UK, US and EU are working closely together, and have agreed far-reaching financial measures that many thought could not be agreed. Some of the world's most mobile have found themselves grounded. Formula 1 is off. There'll be no international football for Russia.
Our own polity is united too. As I said in the Commons debate last week: "Of course government must be scrutinised and must be held to account. In our oppositional parliamentary liberal democracy, that is what we do, and I think it is what this House does rather well. But it is also a great strength of this House that we can come together to show the unity of our ultimate purpose – the defence of freedom and democracy at home and abroad – and I believe that, collectively, we have done that."
We were then debating sanctions and the wider issues around illicit finance, specifically with regard to Putin-linked elites.
This week we are bringing forward emergency legislation to parliament to go further. The Bill will include simplification of the proceedings on sanctions infractions, and a new Register of Overseas Entities to improve transparency and fight money laundering in high-end property.
We will also be bolstering Unexplained Wealth Orders. These can be a potent tool to help law enforcement open up investigations. And we are standing up a special 'Kleptocracy cell' in the National Crime Agency. More measures will follow in a further Economic Crime Bill.
These things complement the wider sanctions regime. And ours in turn complement those of our friends and allies.
While the purpose of sanctions is to put financial pain on the Putin regime, we cannot ignore this war brings economic problems for all of Europe, and beyond. Nothing close to the pain of the people of Ukraine, but significant still.
The UK's own reliance on Russia for gas is small (most of ours is domestic or from Norway) – but the gas price is a world price, and any disruption of supply pushes up cost. Same goes, too, for the price of oil. Russia and Ukraine are both key to the global supply of wheat.
More broadly, there is going to be an effect on European economies, and with the inter-connectedness of today's world, that will soon spread.
We may feel harm in other ways, too. Modern arsenals also include cyber-attack capability – an extension of the cyber security risks we face all the time. Again, inter-connectedness can make these effects wider hitting.
Although the focus is often on critical national infrastructure, any size of organisation can be hit. This is a good time for all East Hampshire businesses to look at the advice offered by the National Cyber Security Centre and the Cyber Essentials programme.
The world is responding in another vital way. With hundreds of thousands of people leaving Ukraine, especially into Poland, there is an enormous humanitarian requirement. Very many are separated families, women and children. Overwhelmingly their dearest wish will be to be able, in time, to be reunited, and to return to reclaim their homes and their homeland.
It is right that we have committed the humanitarian assistance that we have. And as the prime minister has said, the UK will certainly play our part in welcoming and helping people displaced.
We will look back, I think, on February 2022 as a time when many things changed.
The irreplaceable Nord Stream II was suspended. Germany started reinvesting in defence. The EU sent armaments. Countries imposed sanctions that had never done so before.
A hard reality faces Western nations. We must acknowledge we did not do what we should have in 2014, when Putin invaded Crimea.
The thing with bullies is if you don't stand up to them, they do it again.
There are difficult times ahead. But there is something much bigger at stake: freedom, democracy, and the right of nations to exist.
Comments
To leave a comment you need to create an account. |
All comments 0