Pianist chose works showing love of homeland for Haslemere concert
Friday 8th April 2022 11:00 am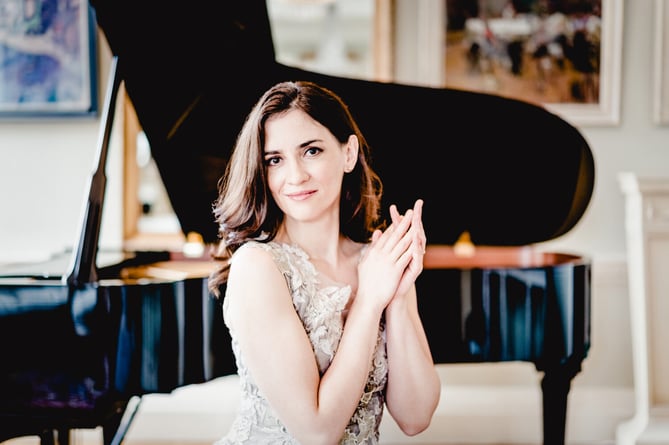 Subscribe newsletter
Subscribe to our email and get updates right in your inbox.
EMINENT pianist Ivana Gavrić gave a recital to a full house at St Christopher's Church in Haslemere for the latest HHH Concert on March 26.
Starting with Chopin, she played two early mazurkas with colourful tunes, always varying, always flowing – he was still in touch with the country dances of his youth.
In a nocturne written when his former sweetheart married, the notes fell sadly, heavy and dark.
Ms Gavrić plays mostly from memory, leaning forward slightly as the music pours forth through economic hand movements.
She explained how her background and recent events guided her choice of pieces. Centred around Edvard Grieg, they were by composers who used music to express love of their homeland.
The plunging patterns in Grieg's piano sonata painted a picture of the steep slopes of Norwegian fjords, crashing arpeggios like waterfalls cascading out of hanging valleys.
Leoš Janáček wrote From The Street in response to a 1905 event when a Czech tradesman was killed by an Austrian soldier at a peaceful demonstration. He wrote this tribute after the funeral, attended by 80,000 people.
The first movement, Presentiment, starts hauntingly, interrupted by speech-like interjections of outrage, building up like public resentment until a new theme sings of happier memories.
The second movement, Death, opens on to a cheerless space in which a five-note phrase hangs, numb with grief. As the forlorn tune is repeated, grief gives way to anger in a terrifying climax, but when this rage subsides and the bell-like tune returns there are no happy recollections, only desolation and a funeral bell. Hope dies with the single toll of the final chord.
There was a third movement but, as the pianist rehearsed, Janáček tore it from the score in a fit of doubt and hurled it in the fire. He later threw the rest in the River Vltava in disgust. The two-movement sonata survived because the pianist made a copy for herself.
The resonance of the Bechstein piano, and the acoustic of St Christopher's barrel-vaulted ceiling, imbued the playing with richness which suited the Grieg. For the Janáček a more austere sound might have fitted. But the warmth lent to the taut melody reminded us loss is human, not abstract.
This warmth served Tchaikovsky, a composer who admired Grieg. The audience heard three of his Calendar Pieces – quick sketches for months of the year – the merrymaking of Mardi Gras, October's regrets and flying leaves.
A rueful backward glance underlies his Dumka, Ivana Gavric's final piece. This slow Slavic dance was full of ancient sorrow. Part-way through the tempo picked up to explore its jauntier side, until an abrupt coda ended a riveting concert.
Comments
To leave a comment you need to create an account. |
All comments 0